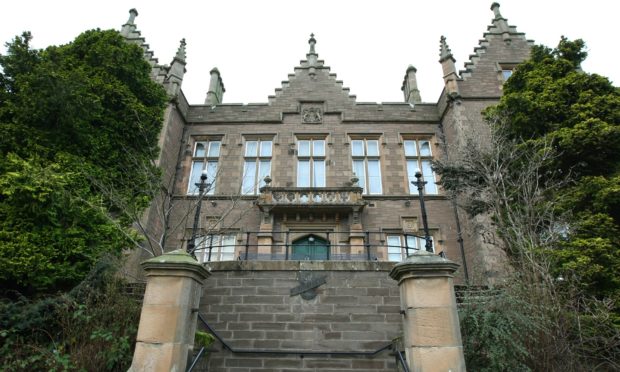 An Angus man has dodged a jail sentence after a catalogue of threatening behaviour against his ex-partner.
David Weir threatened to post intimate images of the woman on Facebook and also turned up outside her home and work on a number of occasions.
The court heard the offences happened after a "messy" break-up of a relationship which the 28-year-old hoped would continue.
Weir was told by a sheriff his first inclination had been to send the accused straight to prison.
Weir, of Glenclova Terrace, Forfar admitted behaving in a threatening or abusive manner on various occasions in June, causing fear and alarm to his ex-partner by repeatedly watching her home address, threatening to disclose intimate images and failing to comply with bail conditions preventing him from contacting the woman.
Depute fiscal Stewart Duncan said the offences began with a threat from Weir on June 11 that he would put intimate images of the woman on social media.
"She believed this threat was serious," said the fiscal.
Later that night Weir then sent a text containing an intimate image of the woman, which she asked him to delete.
The following day she was at her work when Weir walked past numerous times, and when she then saw him at her home address later that night police were contacted.
Around a fortnight later, a neighbour of the woman saw Weir at her front door peering through the glass and the court heard that was followed by a number of further incidents in which the accused was seen around the property.
Defence solicitor Nick Markowski said: "He has described the offences as a messy break-up.
"He has been in other relationships and has never behaved in this way before in relation to them ending.
"He wanted to continue it but he has gone about it completely the wrong way."
The solicitor admitted the social work report before the court was "fairly poor", but said Weir recognised the seriousness of his crimes.
"Hopefully this is out of character, and he now accepts the relationship is over.
"Clearly, given the nature of the offence and that he has breached fairly strict conditions of bail, his liberty will be at risk, but all of the offending happened within a few weeks, just after the separation."
Sheriff Gregor Murray said while he was unhappy with the explanation given by Weir to social workers preparing a report for sentencing, it appeared the accused now accepted he had acted "entirely inappropriately".
"My first inclination was to send you to jail," said the sheriff.
"However, you have no analogous convictions and I think there is a direct alternative to custody."
Weir was ordered to carry out 190 hours of unpaid work under a one-year Community Payback Order.