The fundraising legacy of the Maggie's Penguin Parade continued at an Angus nursery school when children welcomed a special visitor to a Macmillan coffee afternoon.
The eye-catching Love, Light and Penguin Postures, designed by Dundonian writer-illustrator Lindsey Gardiner, took pride of place at Inverarity Primary School and provided the perfect tool to promote the valuable work carried out by Macmillan and Maggie's in a child-friendly way.
The colourful penguin was purchased at the Maggie's auction at the V&A design museum by Angus businessman Campbell Archibald, sales director of Alba Power, who attended the major fund-raiser with his wife Nadine.
He purchased two lots on the night – Love, Light and Penguin Postures and Maggie, helping Maggie's Dundee reach its £540,000 target.
Nadine explained: "We took the opportunity to purchase the penguins to raise funds for Maggie's as we too have lost people who have been dear to us to cancer.
"We are fortunate this is a way we can help re-pay the care and support they received, and now we have the perfect opportunity to continue the great work that has been done with the penguins and continue fundraising, on this occasion, for Macmillan."
Love, Light and Penguin Postures was inspired by Errol woman Fi Munro who is battling cancer and who runs yoga classes for children.
Nadine explained she has since discovered she has connections with Fi and Lindsey and was delighted they had agreed to attend the Inverarity event.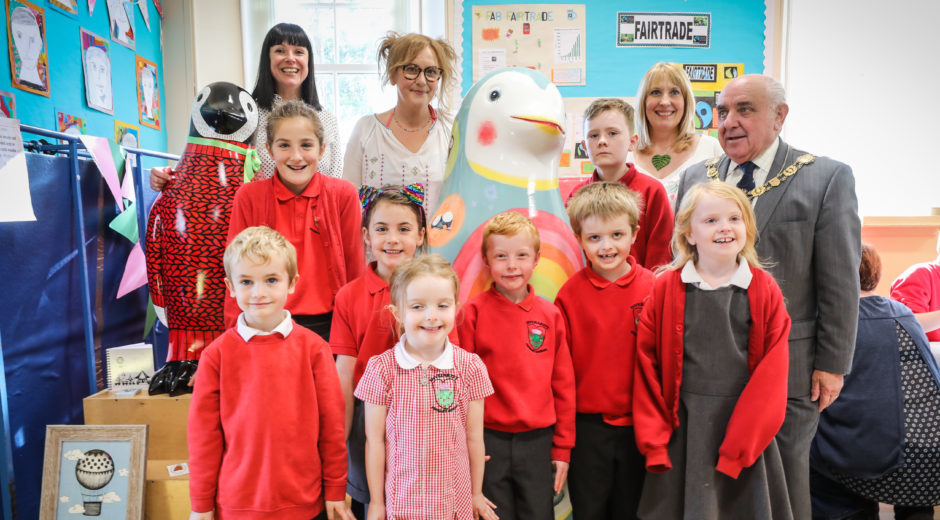 She continued: "Our aim for now is to give children outwith the Dundee area an opportunity to enjoy the penguins and hopefully inspire them, either through art and design or yoga, and it may help them think of ways they can help others.
"We thank the school for letting us be part of their fundraiser.  After that we will take a bit of time to enjoy these great works of art before considering how we and the penguins can help others again in the future."
Head teacher Sandra Hood was delighted to welcome the colourful penguin to the Macmillan café.
She said: "We organised the café for the older children as part of an enterprise project.
"The children have been busy making various things.
"We were approached by the Archibalds who said they had won the penguin in the auction and they would like to bring it along to the café.
"It is wonderful as Macmillan and Maggie's do a lot of work together.
"It is a great opportunity for us to promote their work in a child-friendly way."