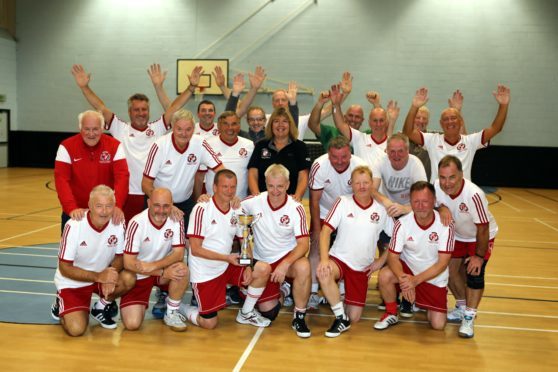 A team of Angus walking footballers have vowed to return to an international tournament in 2018 after being pipped at the post in this year's final.
The eight members from Carnoustie Panmure, who were accompanied by club organiser Mags Muir, had their eye on the prize when they competed in the Brown's walking football tournament in the Algarve in Portugal.
Buoyed by their success in last year's event, when they won the plate for finishing fifth out of the 32 teams, they were delighted when they got through to this year's final against a team of ex-pats now living in Portugal.
Craig Murray, John Marshall, Mike Gallacher, Phil Gibson, George Wright, Ross Smyth, Tony Gourlay and Murdo Mathers finished runners-up after losing by one goal to nil, but have vowed to come back even stronger next year.
Craig, 55, said: "We came up against teams like Derby County, Sheffield Wednesday, Hearts and Exeter.
"The team that beat us also won the competition last year. They have three ex-pros playing for them.
"One of their players, who wasn't there this year, is Brian Kilcline who was captain of Coventry City FC when the won the FA Cup.
"We are basically 'eight boys wi a ba'.
"We saw all these teams with coaches at the warm ups, going through all the drills, we just go out to enjoy our football.
"We lost 1-0 in the final, it was the only time we were beaten in open play.
The Carnoustie lads, whose motto this year was "still game and dribbling", following on from 2017's "one foot in the Algarve", are back in training and are already planning their next trip.
The Carnoustie walking football team was one of the first set up in the area three years ago as a form of exercise and to allow players to enjoy the social aspect of the game.
Craig, who has been involved with Carnoustie Panmure for 18 years and is a past president of the club, continued: "It was initially a council led initiative, they got the ball rolling.
"It has taken off really quickly and sits well with Carnoustie Panmure's social inclusion aspect.
"We are open to footballers aged over 40, but the five a side competitions are for those over 50."
Carnoustie Panmure's involvement in the local community includes its football academy for five-year-olds through to its football memories initiative for people living with dementia, which meets every Tuesday of the month in the Kinloch Centre.