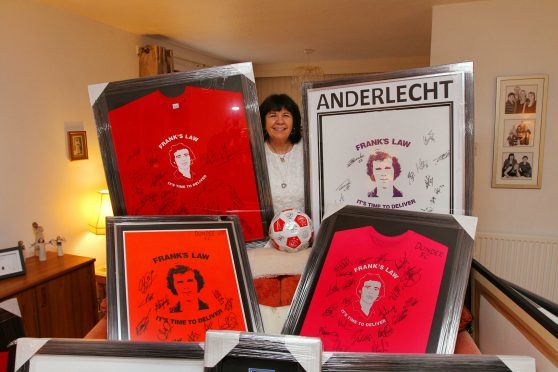 Bidding has opened on a treasure trove of signed sporting memorabilia donated to Frank's Law campaigner Amanda Kopel in support of her fundraising effort for dementia research.
Ahead of a Frank's Law dinner at the Tannadice Park stadium where the footballer's skills won him legendary status, the online auction of a host of items bearing signatures from across the sporting spectrum is now up and running.
They include Frank's Law shirts signed by top teams including AC Monaco, Everton, Fulham, and Wolves alongside one bearing the autograph of tennis superstar Rafa Nadal.
The squad of RSC Anderlecht also put their names on a shirt, an especially poignant gesture after Frank's famous goal against the Belgian side in the 1979 UEFA Cup.
The late strike against the continental outfit – who the player made his European debut for Manchester United against in 1968 – went down in Tannadice folklore as the 'Arrow in Anderlecht' after taking the Tangerines into the next round of the competition on away goals.
A cricket bat signed by Sir Ian 'Beefy' Botham and other international cricketers is also up for grabs,
The online auction is running from now until the dinner on Saturday October 27, when the fundraising total will be boosted by a silent auction and raffle for a sting of other items.
All monies raised from the auction and dinner is to go towards supporting dementia research projects hand-picked by Amanda and her son, Scott, work at Dundee University and a field study led by Dr Willie Stewart  of the Glasgow Brain Injury Research Group.
Alzheimer Scotland will also be awarded a share of the funds to help improve care and support for people living with dementia and their families.
Frank's Law, backed by The Courier, is due to come into force by April next year having been spearheaded by Amanda in honour of her late husband, who died in 2014 after a battle with dementia.
The former left-back, who began his career at Old Trafford, was eligible for just 19 days of free personal care before his death in April 2014, despite living with the illness for nearly six years.
Amanda hopes the online auction and dinner will be a fitting tribute to both the memory of her husband and the many members of 'Frank's Army' who have supported the initiative from its outset.
"Everyone has been so supportive and so generous, and even now I am still getting signed Frank's Law shirts and other items.
"It is always bittersweet because I lost Frankie, but I have had Frank's army behind me every step of the way, encouraging me to go on.
"I want to raise as much money as possible from this very special event to support people living with dementia now and for the future by supporting dementia research.
"We wanted to put some of the items up for online auction to give as many people as possible a chance to bid for them, and hopefully that will get the ball rolling ahead of the dinner later this month.
"I can only say how grateful I am to everyone who has supported this, and I hope they will continue to do so by coming along to the dinner," she said.
Tickets for the Tannadice dinner are also available at www.alzscot.org/frank.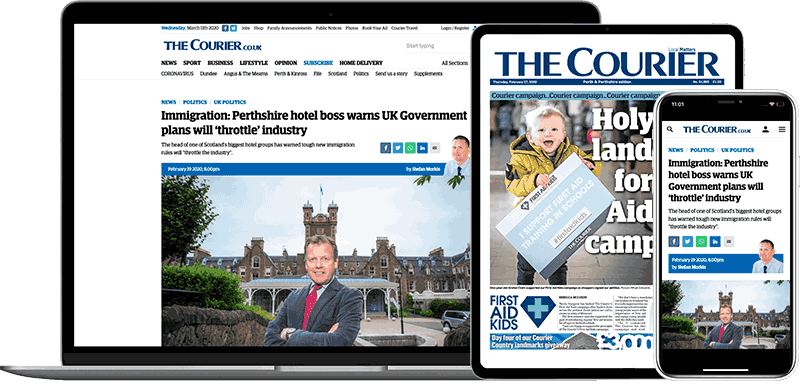 Help support quality local journalism … become a digital subscriber to The Courier
For as little as £5.99 a month you can access all of our content, including Premium articles.
Subscribe