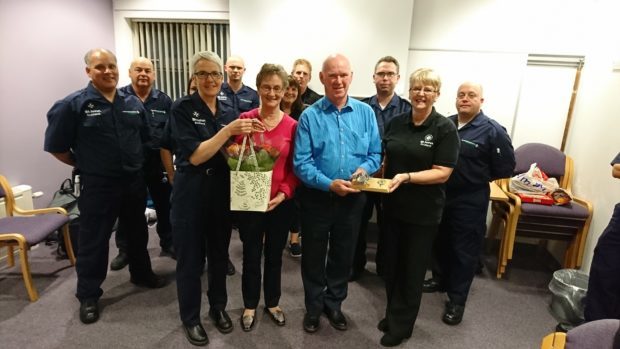 A former Tayside police chief who set up a life-saving initiative in Angus has been hailed.
St John Scotland's team of First Responders are called out to assist at "Category A" 999 calls including instances of cardiac arrest, chest pain, and choking.
The First Responders are deployed from the local area to treat the casualty while the ambulance is on its way, providing vital treatment within the first few minutes of life-threatening situations.
They are trained by the Scottish Ambulance Service in a variety of treatments including CPR, using a defibrillator and oxygen therapy.
A team of dedicated Angus volunteers who work alongside the ambulance service thanked long-standing St John Scotland member Bill Spence for his work in establishing the team nearly 10 years ago.
Mr Spence and his wife Hazel were presented with a gift of gratitude from the volunteers that are willing to give up their time to help others in their darkest hour.
Mr Spence had experience of responding to cardiac arrests during his time in the police and said he knew how critical it was to treat casualties quickly.
He said: "We conceived the idea back in 2009, but took a year before the first volunteers had received all their training and were available to be deployed to incidents.
"In cardiac arrest, time is of the essence, so it's very important to act quickly when professional intervention by paramedics can be more than a few minutes in arriving.
"It seemed that we could assist the prospects of survival and recovery by 'Good Samaritan' volunteers living in the area being available in two or three minutes, to provide resuscitation and buy time until paramedics could attend.
"We began in Wellbank with the concept to serve a community that did not have immediate medical support.
"We quickly extended to Carnoustie, Kirriemuir and Arbroath. Montrose, Brechin and Forfar followed when St John Scotland received new volunteers."
Mr Spence praised the team of First Responders saying they "fulfilled St John Scotland's vision as a charity dedicated to saving and enhancing life".
He said: "Volunteer First Responders give their time to train, to be on stand by and contribute every effort for the benefit of others, without seeking or receiving reward, except the knowledge that their participation can save a life."
Anyone who would like to volunteer as a First Responder and would like more information, should visit the St John Scotland website at www.stjohnscotland.org.uk/firstresponders