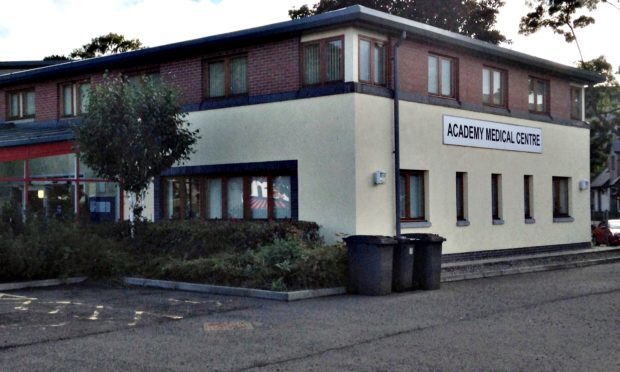 It has been claimed Forfar is in the grip of a primary care crisis after every town doctors' surgery closed their registration list to new patients.
The block came into place at the beginning of this week after Academy Medical Centre posted a notice on its website confirming the move, which followed recent similar decisions at Lour Road and Ravenswood practices.
New patients hoping to register with a town doctor are being directed to an Aberdeen-based service.
One town councillor has demanded Scottish Government action over what he said was a "shocking" situation.
Conservative councillor Braden Davy, a patient at Academy Medical Centre, said he was alarmed to learn of the development after being contacted by potential new constituents in the town who found out they could not register with a doctor.
The Academy Street practice website states: "As from October 22 all Forfar GP practices' lists will be closed.
"Any new patients seeking to register with a GP in the area should make contact with Practitioner Services Division."
Patients who are already registered but are hoping to move GP have been warned they will be unable to do so unless there are 'significant circumstances'.
Mr Davy said: "This is an incredibly worrying development for people across Forfar and Angus, and shows a horrific lack of planning from the Scottish Government for GP numbers.
"The fact a town as large as Forfar, the county town for Angus, can be left with no open GP lists is shocking.
"Our GPs, nurses and our practices are working flat out to ensure they care for patients, but there is only so much they can do.
"Moving to new care models, with telephone interviews, has helped free up doctors' time, but if there simply aren't enough GPs, and growing demand, something will give.
"New residents, or new registrations are faced with contacting the Practitioner services in Aberdeen with potential delays.
"Patients are no longer given a choice, and instead directed to where they need to register."
Mr Davy added: "This is nothing less than an abject failure from the Scottish Government to equip our local surgeries and workforce plan.
"We need action before this problem spreads to other areas across Angus and the north east, and we are left with a primary care crisis engulfing Angus."
Forfar was previously at the centre of plans for a 'super-surgery' merger involving Academy Medical Centre and Ravenswood which would have created Scotland's largest GP practice, but they were shelved in 2016.
A spokesperson for NHS Tayside said: "There has been a national shortage of GPs across Scotland over the last few years and Tayside is no exception. There continues to be significant pressures on GP services across Tayside, due to workforce and workload pressures.
"The new 2018 General Medical Services contract aims to create a more sustainable model of general practice in the future, and NHS Tayside in line with boards across Scotland is implementing a Primary Care Implementation Plan between now and 2021 to deliver on the nationally agreed model.
"List closure provides a temporary opportunity to help practices manage the patients already on their list whilst additional measures, including recruitment of additional medical staff, are progressed.
"With the current situation in Forfar, the Health Board and practices concerned have collaborated, with the support of the Local Medical Committee, to ensure that during these list closures all new residents will be registered with a practice promptly and close to their home.
"Practice sustainability and GP recruitment and retention remain a Board priority. NHS Tayside has been working closely with Angus Health and Social Care Partnership to recruit new doctors and has developed a Career Start model to attract young newly qualified GPs to the local area.
"The Career Start scheme has already brought new doctors to Edzell, Monifieth and Brechin.
"The Board and Angus Health and Social Care Partnership will continue to work closely with the practices and our Local Medical Committee to support the practices at this time in order to facilitate the lists opening at the earliest opportunity."
A Scottish Government spokesperson said: "The new GP contract, backed by investment of £110 million in 2018-19 and jointly developed with the BMA, will help to cut doctors' workload and make general practice an even more attractive career.
"Our ambition is to increase the number of GPs by at least 800 over 10 years to ensure a sustainable 24/7 service that meets increasing demand.
"There will also be significant new investment in the wider multi-disciplinary teams to support GPs.
"Details of how we will achieve this are set out in our Primary Care Workforce Plan that was published on April 30.
"Circumstances sometimes arise where practices experience capacity issues and are unable to routinely accept new patients onto their lists.
"We expect Health Boards to work with practices constructively and flexibly as is appropriate to help manage these situations and ensure that patients will always have access to a GP."