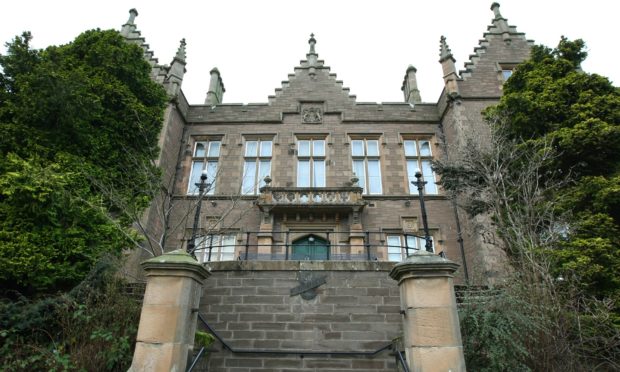 An Angus oil worker was fined £2,000 when he appeared at Forfar Sheriff Court following an ill-fated trip to a Montrose pub for a "hair of the dog."
Dean Bramwell, 35, of Piccadilly, Montrose, admitted assaulting an employee at the Lochside Bar, Montrose on November 19 2017 by throwing a glass at her.
He also admitted behaving in a threatening or abusive manner by shouting, swearing and gesticulating offensively, making offensive remarks and pushing a glass off the bar, causing it to smash on the ground.
Depute fiscal Jill Drummond told the court Bramwell raised his middle finger and shouted abuse at a member of staff who was off duty at about 7.50pm on the evening in question.
He was refused another drink and pushed a half pint onto the floor before being asked to leave.
She said: "The accused then picked up a half-full pint glass and threw it at her head.
"It missed and smashed the optic bottles on the wall."
Patrons tried to calm him down and he was eventually removed.
Part of the incident was captured on CCTV.
She continued: "At 2.20pm the following day he was traced by Police Scotland officers.
"When cautioned he said he had not thrown the glass at the female but was in a rage at the treatment he had received over the last few weeks.
"For the second charge he said 'I broke the glass, I'm not going to deny that."
Defence agent Nick Markoswki said his client was a service technician in the oil industry.
He had been out with his girlfriend on the Saturday evening and at about noon on the Sunday he had gone out for a "hair of the dog."
He said: "He had not planned to stay out so late.
"This happened at 7.50pm – he has no recollection after 4pm.
"This was out of character for him, he has no previous convictions and accepts this is completely unacceptable.
"He knows the owner very well, is still friendly with them. He accepted responsibility from the outset.
"He has spoken to the landlord, he is hard working and accepts he will be punished – he should have been home four or  five hours before this incident.
Sheriff Murray told Bramwell he was "extraordinarily fortunate" he did not cause damage to the barmaid.
He warned: "You would have been facing a far more serious charge. I do not seek to minimise what you did, she was fortunate not to be injured, it could have been a lot worse.
"As you work offshore it would be difficult for you to carry out unpaid work.
"Instead I am going to hit you in the pocket hard and fine you £2,000."