There was uproar across Scotland last night as chef Gordon Ramsay mispronounced the name of an Angus town.
During the episode of Gordon, Gino and Fred: Road Trip, which aired last night, the three chefs visit a number of key culinary locations across Scotland – starting in Brechin.
Or as Ramsay pronounced it – Breckin…
Fans of the show were quick to point out the mistake.
Hemin! Ramsay, its BRECHIN not Brekin. Scottish my arse! #GordonGinoAndFred #clanramsay #scotland

— Adam Fletcher (@FletchK17) October 25, 2018
When did Brechin become Brekim Mr Ramsay?. Scottish my arse.

— Johnboy Scott ??????? (@Johnboy014) October 25, 2018
Gordon Ramsay – its Brechin, not Brekin ? #GordonGinoAndFred pic.twitter.com/lxMiA9aDsv

— Shona Hendry (@shones289) October 25, 2018
Gordon Ramsay: pronounce Brechin correctlyif you're Scottish! #GordonGinoAndFred

— Lisa McNeil (@lisamcneil47) October 25, 2018
It's pronounced BrEchin, Gordon Ramsay. pic.twitter.com/lu2fe0LBGS

— Ghoully Annandale ? (@GillyAnnandale) October 25, 2018
Gordon Ramsay pronouncing Brechin, "Br-eh-kin" has me shook

— Ri ? (@rhianallisonx) October 25, 2018
So Gordon Ramsay's Scottish roots but canna pronounce 'Brechin'

— Fiona (@fionabrechin) October 25, 2018
screaming at the way gordon ramsay pronounces brechin HAHAHAHAH 'true scotsman' my arse

— jaymie ? (@simmoslxter) October 25, 2018
The way Gordon Ramsay say Brechin physically angers me

— Josh (@Josh_More) October 25, 2018
However, his pronunciation had some people doubting themselves.
Anyone watching #GordonGinoAndFred is Ramsay saying Brechin wrong? Or have I been saying it wrong my whole life? ?

— Vicki? (@vickis89) October 25, 2018
Watched this last night and thoroughly enjoyed it …… as for Ramsay's pronunciation of Brechin – have I been getting it wrong all these years?

— Alan Clater (@alanclater) October 26, 2018
Good news though – it appears the chef's mum has been on the phone to correct him.
Mum has already called to correct me #GordonGinoAndFred https://t.co/DxZQnR9BbO

— Gordon Ramsay (@GordonRamsay) October 25, 2018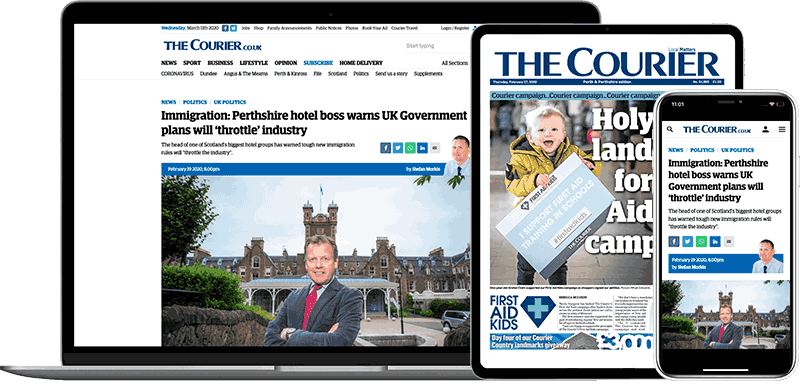 Help support quality local journalism … become a digital subscriber to The Courier
For as little as £5.99 a month you can access all of our content, including Premium articles.
Subscribe