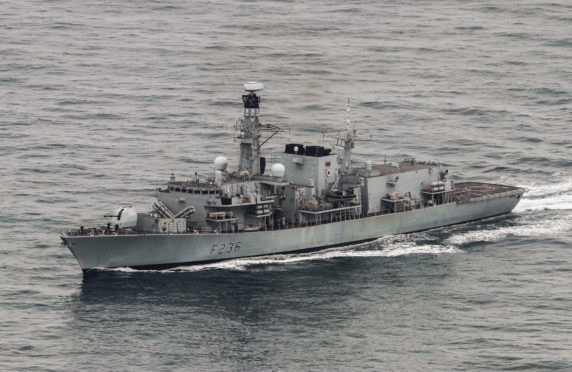 A Royal Navy frigate with close ties to Montrose will not see the shores of the UK again for more than three years.
HMS Montrose has a long history with the town that shares its name and received the Freedom of Angus in 2002. The warship will now become the Royal Navy's first frigate to provide an enduring presence in the Gulf as part of the UK's commitment to security in the Middle East.
Montrose and her 186-strong crew was welcomed by the town this summer when she sailed into Montrose Harbour in July for the first time since the summer of 2014.
The crew provided guided tours to members of the public following a return from the Baltic Sea where they had taken part in two weeks of training with Finnish and Swedish navies.
In honour of the ship's Scottish connections a piper from its affiliated Army regiment, 3 Scots, was on board playing as the ship sailed to Plymouth Sound from the Naval Base on Monday.
When she left Plymouth Sound, HMS Montrose carried out a sail past of Fowey to salute her affiliated town.
The deployment serves two purposes – to demonstrate the UK's commitment to maritime security in the Gulf while also ensuring those on board can enjoy more stability in their home lives.
"It's been a really interesting challenge to get ready for this deployment and one that everyone on board has risen to," said Commander Conor O'Neill, Montrose's Commanding Officer.
"While crew rotations are nothing new to the Royal Navy, manning systems on this scale are something different and it's presented a real chance to employ a bit of creativity and use our problem-solving skills.
"We've got an incredible deployment ahead of us – we will cross almost every ocean and sail around the world before we reach our destination.
"There is plenty to look forward to."
Families of the ship's company waved off their loved ones from Devil's Point on Monday.
In March, the Angus provost Ronnie Proctor attended a Plymouth ceremony to welcome the warship back to the Royal Navy fleet before her Montrose visit.
Retired Black Watch Major Ronnie Proctor represented the county in his role as the area's civic figurehead at the Devonport rededication ceremony following a multi-million-pound upgrade of the Duke-class frigate.
The major refit saw the frigate being equipped with a new missile system and computerised command centre.