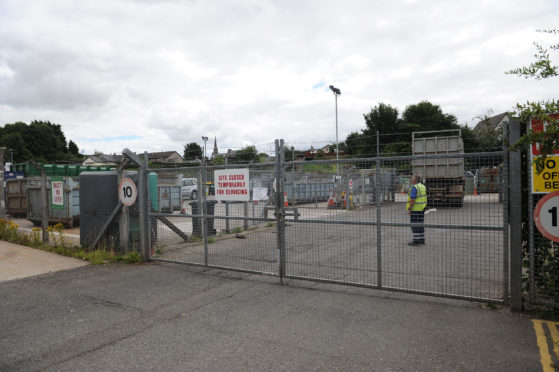 An Angus councillor has branded a quarter of a million pound spend on upgrading Forfar's recycling centre an "outrageous waste" — and demanded that the spending be brought back for further scrutiny.
Carnoustie and district Independent councillor Brian Boyd hit out after it emerged the local authority was spending an estimated £250,000 on a range of measures at the site.
The programme includes the demolition of a shed deemed to be surplus to requirements, a reconfigured lay-out to enhance traffic flow and resurfacing work.
Other measures planned for Angus recycling centres — and outlined previously in a report to councillors — include enhanced CCTV and number plate recognition systems, and the introduction of a householder permit scheme, based on a Dundee model which restricts users to 12 visits per site.
Mr Boyd said: "It is frankly astonishing that the administration is spending this amount of money on what seems to be little more than a cosmetic exercise that will see some skips moved about.
"Worse still, despite stating that the cost at Forfar will be £250,000, we now know that no firm costs exist for some of the work, which means that work will begin on what seems to be vague and ethereal costings – it's frankly unacceptable."
Mr Boyd said he was also concerned about a lack of firm plans for how the householder permit  or number plate recognition systems would work.
"This money could have been used to retain waste services at other sites across Angus, such as Kirriemuir and Brechin, but instead we see it squandered on what appears to be yet another pet project for the administration," he added.
Deputy convener of communities Tommy Stewart insisted the investment would be money well spent.
"We're expecting a small uplift in the demand in Forfar and we're future proofing the site to make it as functional and efficient as we can," the Montrose Independent councillor said.
"We are asking the people of Angus to work with us to improve our already good recycling rates and it's only right that we should invest in making that as safe and as easy as is possible.
"These plans have been in the public domain for some time for anyone to clearly see what we're looking to achieve."
A spokesperson for the council added: "The Forfar site is one of the council's busiest sites and is being further expanded to support more recycling.
"Increasing recycling rates across Angus is our main priority and we're working with the public to make this as easy as possible.
"The work now being undertaken will make significant improvements and upgrades to the site, and the investment will make it safer, more efficient, improve traffic management, require less down time for servicing of skips and offer better facilities for recycling.
"All of these will directly assist people to maximise their recycling opportunities."