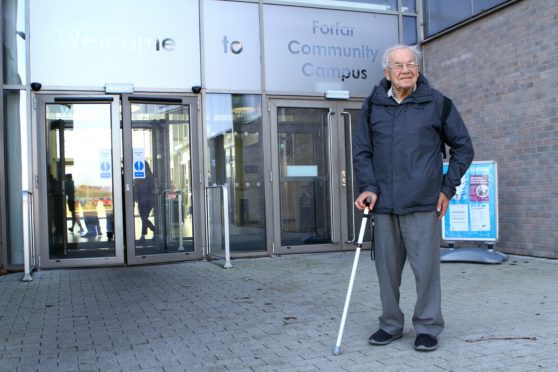 A hardy octogenarian is determined not to let his failing eyesight stop him in his tracks as he continues on his fundraising trail to help others.
Harry Racionzer, a retired Angus secondary school-teacher and former head of Dundee College's science department, has raised thousands of pounds for various charities over the years by walking the highways between all the Angus towns.
He also completed a sponsored walk from Dundee to Edinburgh.
He is now taking a break from public roads but training just as hard for his latest challenge.
Harry, 86, is preparing to step out on November 24 and 25 to walk the equivalent of a marathon on the treadmill at Forfar Community Campus to raise funds for the Alzheimer's Society.
He said he was eager to put a few more miles on the clock.
"I have done a few things like this in the past but my vision is just about gone now, which makes it difficult to walk on roads," he said.
"I'm getting the use of a treadmill at the community campus in Forfar.
"It's a marathon walk but it doesn't have to be done all in one session.
"I hope to walk the equivalent of two half marathons over the two days."
Harry is a well-known figure in Angus through his fund-raising ventures.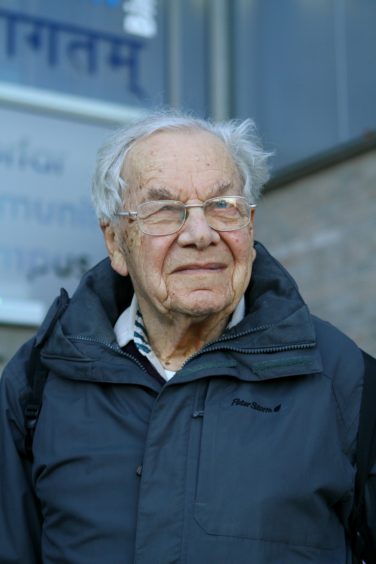 As his eye-sight deteriorated he moved off public roads and onto paths, with his most recent challenge being a 100-mile walk round Forfar loch.
He continued: "It's two-and-a quarter miles round the loch so I did 40 circuits in five days.
"I am a keen walker but unfortunately can't do as much as I did in the past.
"I have a few sessions booked at the gym between now and the weekend of November 24 and 25."
Harry took part in a successful induction session at the gym where he got to grips with the treadmill and he is determined to be fighting fit by the time the challenge rolls around.
He continued: "The staff at the campus were marvellous.
"They showed me all the controls and told me I could go in for training sessions before the event and there would be no charge."
Anyone wishing to support Harry's efforts can sponsor him on 
https://jogondementia18.everydayhero.com/uk/harry