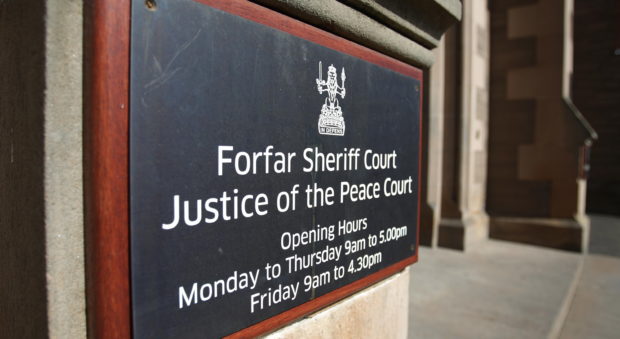 An Angus man who admitted committing a "disgusting offence" by spitting on the face of a woman driver has been fined £300.
Stewart Meek, 50, of Hill Street, Montrose, pled guilty to assaulting the female on December 4 2017 in the High Street, Montrose when he appeared at Forfar Sheriff Court.
Depute fiscal Jill Drummond told the court the incident took place at 4.15pm.
The complainer had been driving in George Street, Montrose in the direction of Hill Street with her son and daughter in the car.
When she was half way up the hill in George Street she overtook the accused, who was cycling on the road.
She thought she had given him plenty of room but her son reported seeing Meek making a rude gesture.
Ms Drummond said: "She came to a stop at the side of the road, the accused pulled up alongside her and she opened the window.
"He asked 'did you not see me? I was trying to turn right.'
"She tried to put her window up but he spat on her face.
"The 15-year-old son gave chase and took a photograph of the accused on his mobile phone.
"The complainer went home and had a shower before contacting the police and the accused was traced."
Defence agent Nick Markowski told the court the case was "very unusual" as his client had learning difficulties.
He lived independently with the support of a care team.
He said: "This was disgusting behaviour.
"He was cycling and got held up – he got scared and confrontational when he committed the offence.
"When the complainer became aware of Mr Meek's difficulties her attitude changed and she has indicated a warning would suffice.
"It is out of character for him — in his own words he got a fleg. He has apologised for what is a disgusting offence."
Fining him £300 Sheriff Gregor Murray told Meek: "I am sympathetic to anyone who has the difficulties you have but I am unsympathetic towards your behaviour."