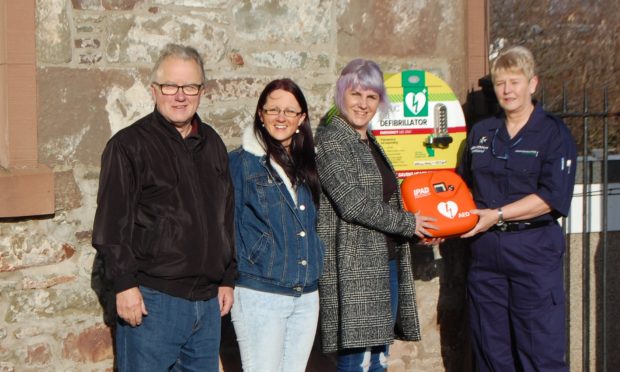 Carnoustie now has seven lifesaving public access defibrillators after the addition of two more as a popular local man's legacy.
Keen motorcyclist Graeme Bell was the victim of a road accident in early November last year, and the loss of the 27-year-old was keenly felt by his family and their many friends, who set about collecting money for a memorial.
A chance conversation with Lynn Lawrence, Angus area cooordinator of St John Scotland's First Responders prompted Graeme's wife, Jenni to direct fundraising efforts towards installing a defibrillator in the town in his memory.
The group is made up of trained volunteers who render assistance to injured people until the arrival of an ambulance.
So successful were their efforts that two instruments are now in place, at the town's Station Hotel opposite the railway station, and at the Barry end of the town at Carnoustie Tyres.
The fundraising included a poignant walk by family and friends from Carnoustie to Cupar Motorcycles, where Graeme worked, and which will be the location for another defibrillator.
Both Carnoustie defibrillators movingly commemorate Graeme in an inscription on their housing cabinets and have been installed in time to mark the anniversary of his death.
Jenni said how grateful the family were to everyone who contributed from Carnoustie and beyond, and to the management of the Station Hotel and Carnoustie Tyres for allowing the installations.
The defibrillators are now registered with the Scottish Ambulance Service and each can be accessed by calling 999 for an ambulance.
When the location of the device is given, the emergency operator will the provide the security code to open the cabinet containing the defibrillator.
When attached to the casualty, the defibrillator will then give simple instructions by voice.
St John Scotland has a dozen area teams across the country, operating a number of projects and initiatives.
Those include patient transport, CPR sessions and the provision of public access defibrillators.
The organisation has also been one of the biggest contributors to Scottish Mountain Rescue teams over the past two decades.