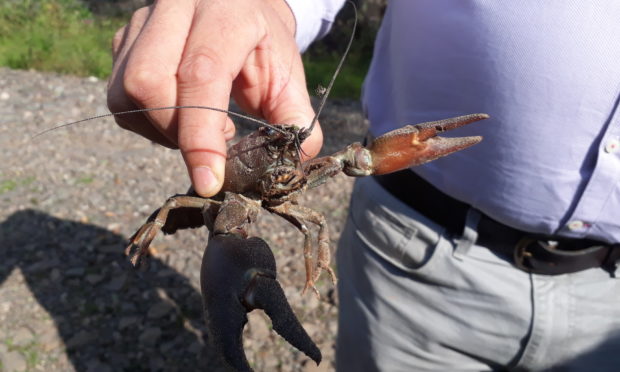 Angus experts have issued an urgent warning over the appearance of alien killer crayfish in the area's two important salmon rivers.
Cannabilistic North American Signal Crayfish have been found in both the North and South Esks, prompting fears for salmon and trout population in rivers which generate valuable angling income for the area and have been the subject of major investment and environmental improvements over recent years.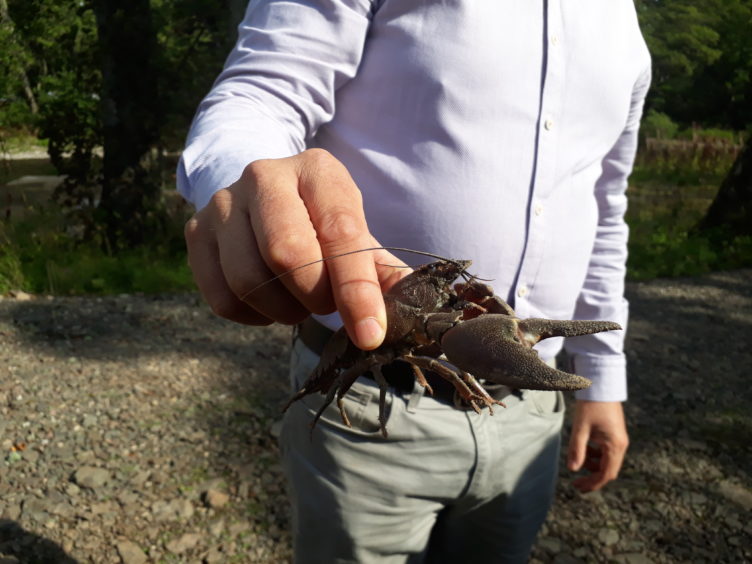 The menace has proved highly resistant to previous efforts to eradicate them and detailed advice has now been issued to anyone who may encounter one of the clawed creatures.
Introduced in Scotland in the 1990s for food, the crayfish were originally kept in ponds but breached the country's river systems by either crawling there or being carried by floodwaters.
Esk Rivers and Fisheries Trust rivers director, Dr Craig McIntyre said: "There was an attempt to eradicate them on the North Esk as far back as 2005, and we have been doing our own trapping on the South Esk, but they remain a problem.
"As they are in running water, they are virtually impossible to get rid of, and our management strategy is simply minimising their spread.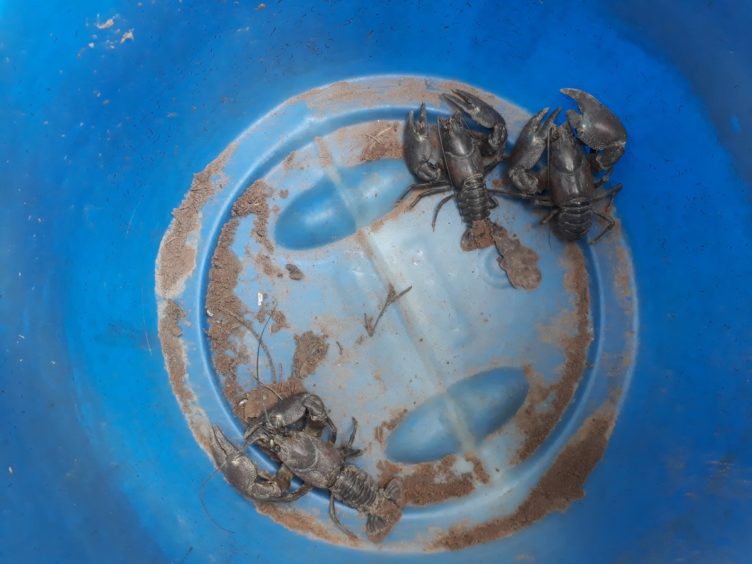 "The only way to eradicate crayfish from a river is to kill everything in that river using highly toxic biocides and even that is not guaranteed to work."
Describing the invader as "virtually bombproof", Mr McIntyre said the crayfish can burrow up to six feet into stream banks and survive low oxygen conditions to survive. The burrowing also puts riverbanks at the risk of erosion.
He added: "Trapping for crayfish is not effective, as all it does it remove the big crayfish.
"This causes increased numbers of young crayfish to survive and thrive, and ultimately more damage.  Crayfish are cannibalistic and large crayfish keep numbers of young crayfish under control.
"We do not encourage people to eat crayfish, for the reasons that this encourages some people to put them into ponds and rivers for a crayfish fishery, and since it is the big ones that are taken out to eat this increases the numbers of young crayfish."
Crayfish cause damage to the river environment by eating salmon and trout eggs, eating the young and increasing competition for other food such as invertebrates the fish rely on.
The guidance from Scottish Natural Heritage is that it is illegal to have a North American Signal Crayfish in your possession, and if you accidentally pick one up, it is illegal to return it to the water or land alive.
Mr McIntyre's advice is not for the squeamish.
"If you accidentally remove one from a river or pond, then kill it by crushing the head and bury the remains nearby," he said.
"Do not return the crayfish to the water, either alive or dead.
"There are no native white-clawed crayfish present in the rivers, so any crayfish seen will probably be North American Signal Crayfish."
Anyone who sees a crayfish is urged to contact the Esk District Salmon Fishery Board on 01356 623492 or Scottish Natural Heritage on 0131 314 6750.