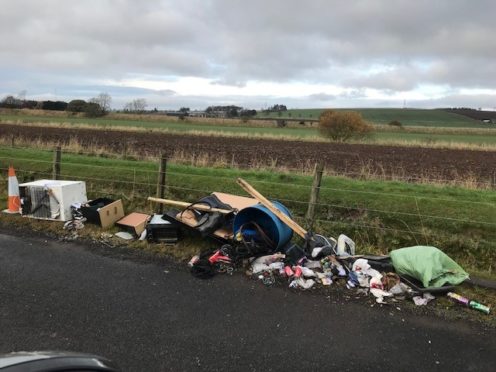 A one tonne bag of potentially lethal asbestos has been dumped in a shocking case of Tayside fly-tipping.
Vandals responsible for a dramatic rise in Angus fly-tipping have been slammed by an Angus councillor who described their actions as a 'foretaste' of things to come when general waste facilities are removed from some centres.
The local authority has now pledged to deploy covert cameras in a bid to catch the debris dumpers.
Carnoustie and District independent councillor David Cheape hit out after receiving numerous reports of wide spread dumping, including the find of a one tonne bag of potentially lethal asbestos at Monikie.
Mr Cheape said: "It is appalling that people would dump material such as asbestos, which has well-known health risks, in an area accessible to the public.
"In recent days, a resident found three tonnes of tarmac, and garden refuse dumped at Barry, and another dump was found at the curling pond site at Monikie.
"The sheer scale of the items being tipped shows that these are not people just dumping items out of the boot of their car, it is clear that vans and tipper trucks are being used to transport this waste.
"After a year of working with council officers, I managed to have large boulders placed at the entrance to one problem site, and no sooner were they in place, a late night fly-tipper had reversed into them, causing enough noise and mayhem to alert nearby residents to the illegal activity.
"This has to act as a wake-up call to the administration that the issue is likely to get substantially worse once we lose general waste facilities at some recycling centres.
"It is a bitter irony that it may well cost the council more to remove fly-tipping, than it would to keep general waste facilities at Carnoustie, which would have been just £18,500 per year."
A spokesperson for Angus Council said: "Fly-tipping continues to be a problem caused by the selfish and illegal acts of a minority.
"This problem is not unique to Angus and nationally all authorities are acting to try and address the problem.
"We will continue to investigate all incidences of fly-tipping and will take action and issue fixed penalty notices and proceed to prosecution as appropriate.
"We will also look to increase our use of deployable cameras in areas that have experienced fly tipping and consider other preventative measures.
"We would also appeal to the public to be vigilant and report any fly-tipping they witness and also remind businesses and householders they have a legal responsibility to ensure that anyone disposing of waste on their behalf does so responsibly.
"There will continue to be a network of recycling centres in Angus for the disposal of waste and recycling to supplement our existing special uplift service and kerbside waste and recycling collection service, and there are simply no excuses to fly-tip."