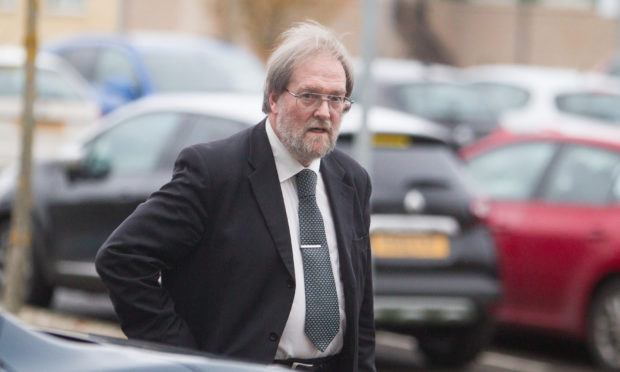 An Angus councillor has been suspended from attending any council meetings after a complaint about his conduct towards four women on the same evening was upheld.
Arbroath West and Letham Liberal Democrat Richard Moore was sanctioned following an all-day hearing at the local authority's Forfar HQ.
He admitted he had flicked one woman's top, as he would "a Subbuteo player" and referred to them as "lovely ladies", but insisted he had not acted in a derogatory manner.
A specially convened panel heard evidence under oath from Kirriemuir and Dean SNP councillor Julie Bell, Arbroath East and Lunan Independent councillor Lois Speed, and two female council officers named only as Witness D and Witness G.
The witnesses said they had been touched by Mr Moore at a formal exhibition attended by councillors and to which members of the Scottish and UK parliaments had been invited.
Bill Thomson, Commissioner for Ethical Standards in Public Life, told the hearing: "You have heard evidence from four females, two councillors and two officials, and my submission is that they are all credible.
"In all four cases you have very clear evidence that the physical contact made by councillor Moore was unwanted and unexpected.
"And in the case of Witness D, it wasn't just one occasion, it was three, despite her taking half a step back after the first and after the second. That strikes me as persistent and certainly deliberate."
Mr Thomson also quoted from a confidential investigation report by a senior officer from the local authority, which said: "The report concluded that councillor Moore's behaviour and language was inappropriate and below the standard expected of a councillor.
"His physical contact with women was totally inappropriate in a work context, over-familiar and sexist and that this had made the women concerned feel awkward, uncomfortable and patronised.
"Similarly his language was inappropriate and caused  offence and disrespect to the people concerned."
Speaking in his defence, Mr Moore, who is an elder of Letham church and a former councillor in York, said: "I attended the exhibition and lightly flipped the hood of councillor Bell's top to get her attention.
"I flicked her top in the way one would flick a Subbuteo player.
"At the time, I was very much a friendly, tactile councillor.
"Yes, I probably did touch the councillors, and did refer to them as 'lovely ladies' and 'dear'.
"In Yorkshire, these are not derogatory terms, but it was drawn to my attention that these terms are wrong.
"I touched people in York and no one complained, but I have now learned that it is wrong, and I am now much more formal."
The panel found Mr Moore had been disrespectful towards fellow councillors and officers in four separate incidents, and did not appear to understand the impact of his behaviour on others.
It was of further concern to the panel that Mr Moore had not demonstrated insight into the fact that unwarranted physical contact was wholly inappropriate.
Having found a breach of standards had taken place, the panel suspended his entitlement to attend all meetings of Angus Council and any committee or sub-committee for three months.
Speaking after the session, Mr Moore said he would serve out his suspension but would not be standing down.