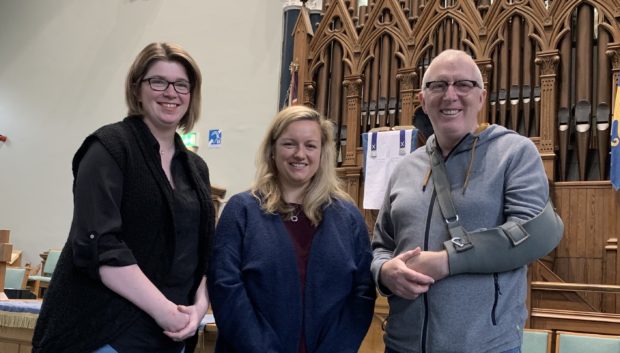 An Arbroath church which offers a haven for heroin users now wants to help people with suicidal thoughts.
Rev Martin Fair from St Andrew's Church set up the Havilah Project in 2006 and runs a drop-in centre at the Community Spirit in Fisheracre.
The scheme grew out of a desire among the congregation to reach out to people in the community who often find themselves excluded, isolated and unloved.
It won a Queen's Award for Voluntary Service and has successfully helped a number of people get clean from addiction, some of whom are now in work or attending college.
Rev Fair said the church now wanted to extend its support to people who struggle with poor mental health.
Church members have already attended suicide awareness training as part of their preparations for the work.
He said: "The congregation is well aware of existing provision in this field but is equally aware that services are stretched, at times almost to breaking point, and that waiting times etc can often be longer than is ideal.
"All of this is against a backdrop which sees Scotland continuing to struggle with a suicide rate – particularly among younger men – much higher than elsewhere across the UK."
Suicide is the single biggest killer of men under 45 in the UK.
---
---
In Scotland, two people take their own lives every day.
Rev Fair said waiting lists to access mental health services were huge and the church's volunteers wanted to offer support to those left in limbo.
He said: "Research suggests that many of those who struggle with mental health are first and foremost looking for someone to listen and understand, without judgement.
"Knowing that someone cares is a valuable starting point and that – as opposed to professional psychiatric support – is what the church will be offering.
"Already a good number of church members have attended Safetalk suicide awareness training and future plans include a three-times-a-week drop-in service, for coffee, company and support, and from that, various spin-off therapeutic activities including gardening and community singing.
"As with all that the congregation offers, this provision will be for the whole community, not just for church members and certainly not just for those who consider themselves to be 'religious'."
Havilah started with a trickle of visitors and has since supported a steady stream of long-term addicts.
On average, the drop-in service now welcomes between 25 and 40 young men and women every session.
St Andrew's Church members were invited to contribute a monetary gift at the recent Harvest Thanksgiving celebration.
The total was split three ways with a local, national and international charity each receiving £922.
The three charities chosen were Homestart Angus, Scottish Association for Mental Health and the Dalitso Project.