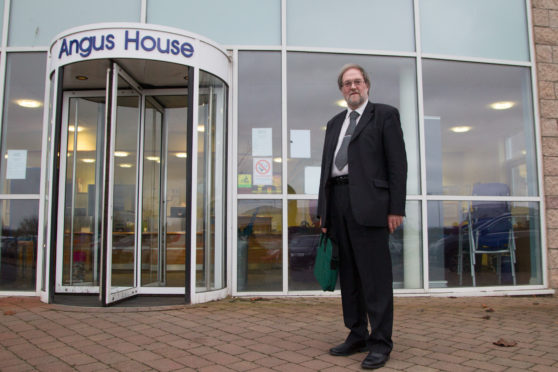 A disgraced Angus councillor suspended for his sexist conduct towards four female victims has stepped down from the authority's ruling coalition – but will remain a ward representative.
Richard Moore had remained defiant in the face of damning evidence at a hearing conducted by Scotland's ethics tsar over his "unwanted and unexpected" touching and other inappropriate conduct towards the women at a council event.
The Arbroath West and Letham Liberal Democrat received a three-month ban from council meetings following Monday's Forfar hearing before Scotland's Ethical Standards Commissioner Bill Thomson.
He was subsequently suspended from the Liberal Democrats pending an investigation by the party's national executive and had faced calls from opposition figures on the council's SNP group to step down completely.
A former councillor south of the border, kirk elder Mr Moore's resignation from the ruling rainbow coalition was confirmed by council leader David Fairweather late on Wednesday afternoon.
Mr Fairweather said: "I can confirm that Councillor Moore has stepped down from the administration coalition, but will continue to serve as a Liberal Democrat councillor for Arbroath West and Letham.
"I met councillor Moore today and he has tendered his resignation with immediate effect which I have accepted.
"We agreed that as he has been sanctioned with a three-month ban from attending council meetings, he is unable to take a full and active part in the important work of the administration at what is a crucial time for the people of Angus."
Councillor Moore said in his resignation letter:"Any fault in the recent case is mine, and it would be unjust and unfair for the administration to be considered as involved or complicit in the matter."
The departure will not threaten the ruling group's majority, with the coalition now consisting of six independent councillors, eight Conservatives and one Liberal Democrat.
However, in another blow to Mr Moore's political future, it emerged the council's arms length culture and leisure trust has called for an urgent review into his position as a director.
Angus Alive chief executive Kirsty Hunter said: "Councillor Moore was confirmed as an Angus Council appointed director to the Angus Alive board on September 7 2018.
"The board of directors is comprised of five independent directors and four council appointed directors.
"Following his appointment, Councillor Moore attended director induction training which confirms the appropriate conduct and behaviour expected of our trustees at all times.
"Given the outcome of the Standards Commission hearing, it was agreed with Kenneth Fraser, chairperson, and Hannah Whaley, vice chairperson, that I would contact the leader of the council immediately to request this council appointment to the Angus Alive board of directors be reviewed as a matter of urgency."
Mr Moore has not responded to a request for comment.
The standards hearing was given evidence from four women – two councillors and two council officers – that he had touched them inappropriately.
Mr Moore admitted he flicked one woman's top as he would "a Subutteo player" and called them "lovely ladies", but denied acting in a derogatory manner.
His behaviour was said to have left the victims feeling "awkward, uncomfortable and patronised."