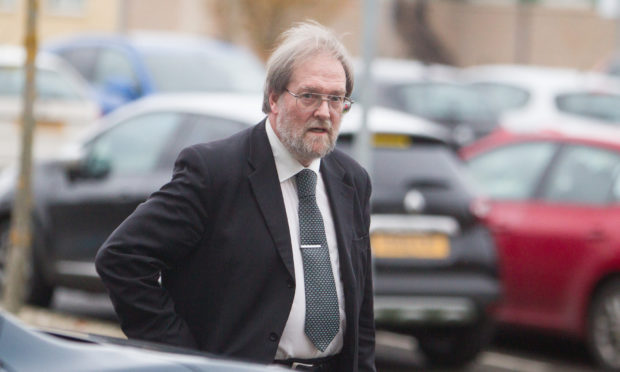 A ruling group colleague of Angus councillor Richard Moore has demanded his resignation amidst claims the disgraced figure may be facing a flurry of fresh complaints over his conduct.
Liberal Democrat Mr Moore was banned from council meetings for three months in the wake of a Standards Commission hearing which condemned him for his "wholly inappropriate" behaviour towards four women at an official event.
He was subsequently suspended by party bosses in Edinburgh and resigned from the coalition administration, but is continuing to serve as a councillor for the Arbroath West and Letham ward.
Conservative coalition colleague Councillor Braden Davy said the kirk elder should step down as an elected member over his "completely unacceptable" behaviour.
The call has come amidst suggestions a string of further complaints about Mr Moore have been made to the authority's Angus Alive culture and leisure trust.
Mr Davy said: "My views on this are simple.
"His behaviour is completely unacceptable, he has shown little remorse by using the excuse 'I'm from Yorkshire'. His standards have fallen well below that expected of someone in public life.
"In any other job this would have been met with a stronger response. His three-month suspension, with pay, still allows him to do his normal councillor work and does not address the issues.
"My view is he should consider his position, and step down. This kind of behaviour is completely unacceptable in the 21st century and my thoughts go out to everyone impacted by it."
Council leader, Arbroath Independent David Fairweather said he believed Mr Moore had "done the right thing" by resigning his administration position.
"It is entirely up to someone if they wish to remain a councillor," he said.
"I believe he has been suspended by the Liberal Democrats and it would be silly of us to put someone out to dry."
Mr Fairweather said he had received no further complaints and was not aware of any being passed to council's chief executive.
But he acknowledged he was aware of the suggestions circulating in relation to Angus Alive allegations and claims from a number of other sources.
"I have only heard supposition," he said.
"Nothing has come forward to me from an arms' length body at this stage. I have had three others that I have been informed about but nothing has come forward.
"If anything came through to me I would automatically pass it to the chief executive."
He said there was no intention to call a meeting of the administration over Mr Moore's future as a councillor.
"Every councillor is entitled to their own opinion," he added in relation to Mr Davy's demand for Mr Moore to go.
Kenneth Fraser, chairperson of Angus Alive board of directors said: "We have no record of any complaints in relation to this matter. Any complaints would be handled following Angus Alive policies and procedures as standard.
"We can confirm Councillor Moore will be unable to attend Angus Alive board meetings during his three month suspension and we await a further update from Angus Council."
An Angus Council spokesman said: "Councillor Moore has resigned from the administration and is subject to a three-month ban from council and committee meetings and those of outside bodies on which he represents the council following the decision of the Standards Commission for Scotland earlier this week.
"His representation on other external bodies is also under review. Any fresh complaints will be dealt with in accordance with the council's established rules and processes or those of any other body as appropriate."