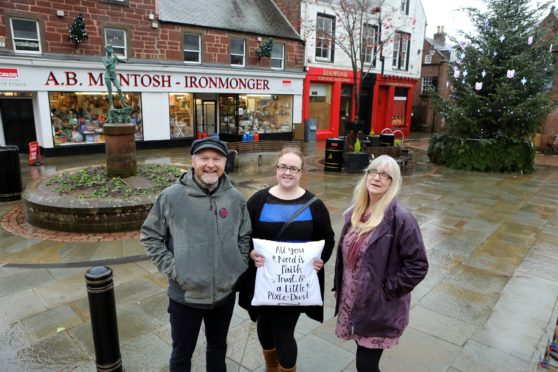 Kirriemuir businesses have resorted to Sunday openings in the run up to Christmas to stave off the decline in footfall they say is caused by Angus Council's parking charges.
Following a late night shopping event which was well supported, a number of local shopkeepers will open on their days off to try to keep trade in the town.
Tina Williamson, of Elemental in Cumberland Close, said they had come together on the back of the success of the Great British High Street competition when the Little Red Town received a "highly commended" certificate.
She said: "Kirriemuir is continuing to demonstrate the strength of its community and is responding to the recent car parking charges inflicted upon the town by Angus Council by opening the town to Christmas shoppers on a Sunday.
"Several independent retailers are joining the pubs, restaurants, Co-Ops and other services which already open on Sundays in the town centre in an attempt to offer customers the option of visiting shops on a day when they will not be charged to park their car.
"They can take their time to browse the shops and enjoy refreshments without parking time limits dictating when they have to return to the car parks. "
A number of shops will open from noon to 4pm, starting on Sunday, while others are looking at changing their hours to try to bring cash to their tills.
Tina added: "It is anticipated most of the town will offer Sunday shopping for December 16 and 23 – a clear message to all Kirriemuir remains very definitely 'open for business'."
Gordon Ewan of The Jeweller's Workshop is another business opening on Sundays prior to Christmas.
He joined the call for Angus Council to cover up the parking meters in the run-up to Christmas after experiencing a marked drop in footfall of between 20 and 30%.
He warned: "That is pretty major for me, I try to be optimistic but this is grim.
"I feel a lot of people will evaluate if it is worth staying open. Some businesses are reporting being down at least 50%.
"Parking charges, the uncertainty of Brexit and stagnant wage growth could put a lot of folk under."
Gordon, who opened his business in 2006, warned customers may get used to driving out of town to shop.
He continued: "A lot of people have to drive to Kirriemuir to shop but they may continue on to Tesco in Forfar, or Dundee, where there is free parking.
"This is death by a thousand cuts – people really resent the parking charges which follow an increase in council tax and the green bin charges.
"I imagine, in a few years, there will be hardly any shops in Kirriemuir."