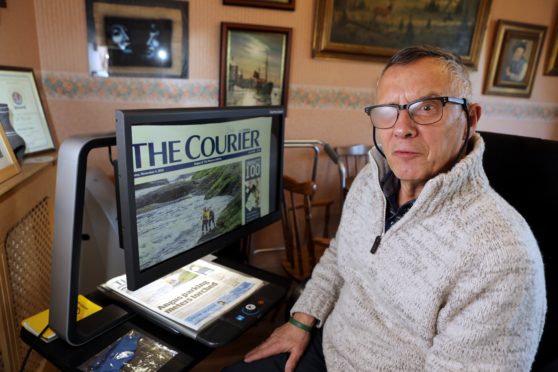 An army veteran living with the life-changing impact of a devastating bleed on his brain has spoken of the power of humour in aiding his recovery.
After receiving an accidental knock on the head on a lamp post in the early days of his service with the Royal Signals in 1967, the resulting bleed on Mike Tasker's brain lay undiscovered for nearly 20 years.
Without warning one morning in January 1996 fit and healthy Mike, then aged 45, struggled to stand while getting ready for work in his post-service civilian role for the Ministry of Defence Police.
He was rushed to hospital but the trauma and resulting life-saving surgery damaged Mike's optic nerve, leaving him with sight loss and quadruple vision in his right eye.
The former Sergeant and marksman, who is now supported by Scottish War Blinded, has made an amazing recovery over the years after his illness also left him with paralysis to his left side and unable to eat, drink or wash himself.
From being wheelchair-bound, the Brechin 68-year-old said getting back on track is largely down to a dry sense of humour and companionship, including the comradeship of fellow veterans at Scottish War Blinded's monthly lunch club at Dundee's Blind and Partially Sighted Society.
Mike, who served with the Royal Signals from 1965 to 1982, said: "When I came home from the hospital after the illness I couldn't read or write.
"It was very hard. It was very frustrating, being left-handed all my life and to suddenly find my left hand didn't work.
"To cope I just made fun of everything. Somebody told me something bad, I'd always come back with some sort of joke. I've always done that.
"I'd say if I hadn't have had a sense of humour I wouldn't have been going out or doing anything. It's a powerful thing."
Mike's wife of 47 years, retired nurse Sheena, said: "I honestly think if it hadn't been for his sense of humour we wouldn't have gotten through. It's a coping mechanism.
Since gaining Scottish War Blinded membership four years ago, the dad-of-three and grandfather-of-one is adapting to life with his sight condition, despite now also being diagnosed with cataracts in both eyes and light sensitivity.
The Dundee lunch club events had allowed Mike and fellow sight loss veterans to "bounce ideas off each other."
Mike has also been able to read again for the first time in nearly two decades with a specialist CCTV reader and portable magnifier.
Scottish War Blinded support former servicemen and women with sight loss and can be contacted on 0800 035 6409 for information or to refer a veteran to the charity.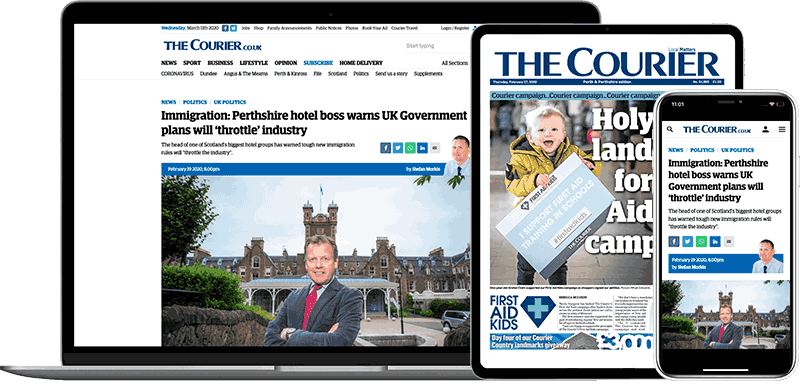 Help support quality local journalism … become a digital subscriber to The Courier
For as little as £5.99 a month you can access all of our content, including Premium articles.
Subscribe