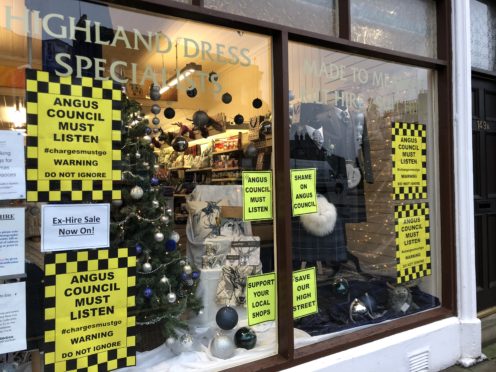 A poster protest against parking charges is taking place in shops across Angus this weekend.
The Angus Business and Retailers Association (ABRA) said it would be a "show of solidarity against the unfair parking charges that have affected our businesses".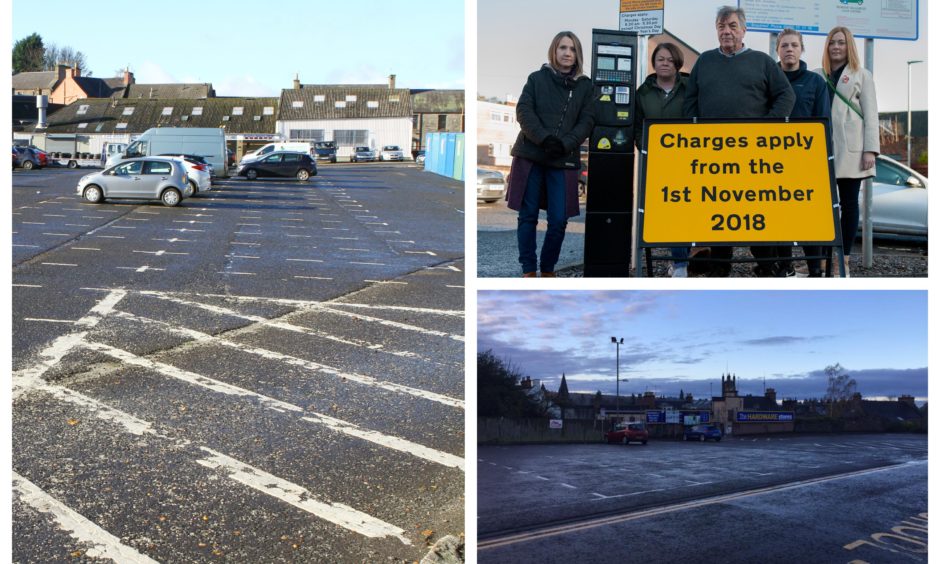 ABRA was set up to fight what it has branded a "stonewall" reaction from Angus Council to concerns raised around the scheme.
Michelle Ingram from Highland Scene in Montrose said the response has been "overwhelmingly positive" to the poster protest with 300 printed and distributed across the county.
"As for the impact on my own business, we have definitely noticed a decline in footfall," she said.
"While people will still come in for kilt hire the biggest impact we have felt is the decline in browsing trade as people do not wish to pay for parking and have such a limited amount of time to shop now.
"This has had a detrimental effect, especially leading up to Christmas.
"As secretary for the Montrose Business and Retailers Society and a founding member of ABRA I have spokento  a great number of businesses in the Angus area in the past few weeks and there are so few that have not been affected in some way.
"It's disheartening and demoralising that the council are so dismissive to our concerns and seem to turn a deaf ear to anyone who raises their voice to ask a question.
"We hope that our poster protest will show a united Angus, with all retailers banding together to show support for each other, to show the public that we too are unhappy with these parking charges and hopefully open a dialogue with the council where they are open to listening to the people in their constituency that voted for them.
"We are not being unreasonable.
"We are not asking for the meters to be removed and all charges to be abolished, we are simply asking for a compromise to be made which will allow our high streets to heal from this and encourage trade back into the town."
The cash-strapped local authority has predicted the scheme could raise £700,000 a year.
However, at current rates, machine-generated income would fail to achieve even half of that sum.
The parking meters were back up and running on Friday after being hit by a day-long, UK-wide outage which affected mobile phone networks on Thursday.
All of Angus Council's off-street car park meters, which operate through O2, were left out of use due to the issues.
The local authority said people who parked while they were out of use will not be be fined by parking wardens – but warned people against ignoring the meters now that they have been "uncovered".
An Angus Council spokesman said: "Parking meters affected by the O2 network's outage yesterday are now being uncovered at off-street car parks in Angus, now the network has been restored.
"A number of vehicles were parked by their drivers before the meters were available again. This will be taken into account by wardens.
"Any vehicles parked once meters are available must be covered by a valid payment – whether by displaying a ticket from the meter, or ticketless by paying via Pay to Park online."