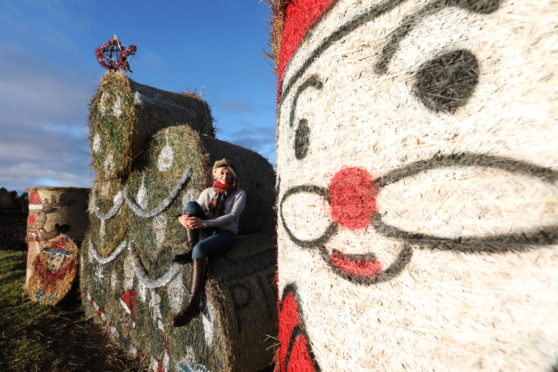 Monikie farmer Fleur Baxter has brought Christmas cheer to the countryside with a festive display.
Mrs Baxter, of East Skichen Farm, got the spray paint out to transform the straw bales, which has gone down a storm with commuters.
She previously created Dennis the Menace, Gnasher, Desperate Dan and a cow pie to brighten up the landscape just off the B961 near Monikie Primary School.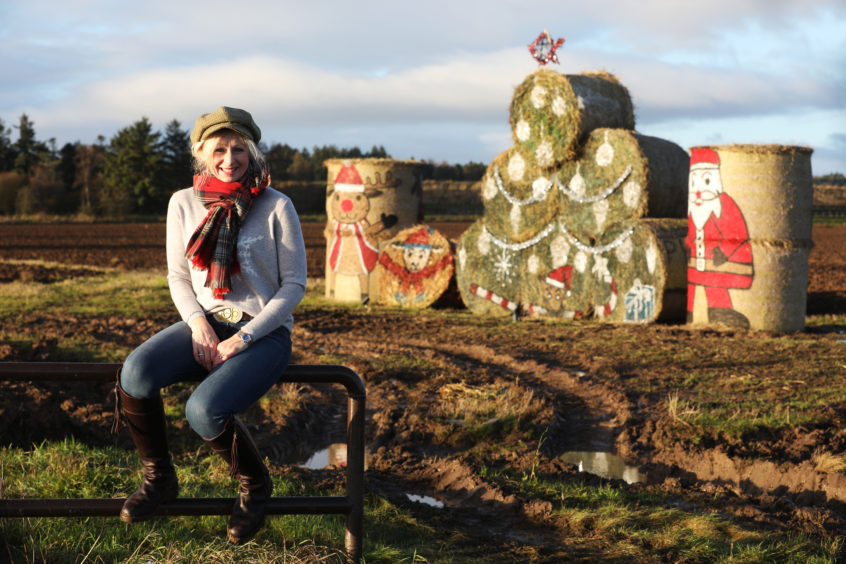 It all started in 2014 when Mrs Baxter decided to adorn some bales with various Minions characters.
They were such a hit on social media that she went on to create further works of art including Pokemon-themed characters, a giant Pudsey for Children in Need and a series of emojis.
Mrs Baxter said she's been delighted by the positive feedback from her Christmas display after recycling Dennis, Gnasher, Dan and the pie.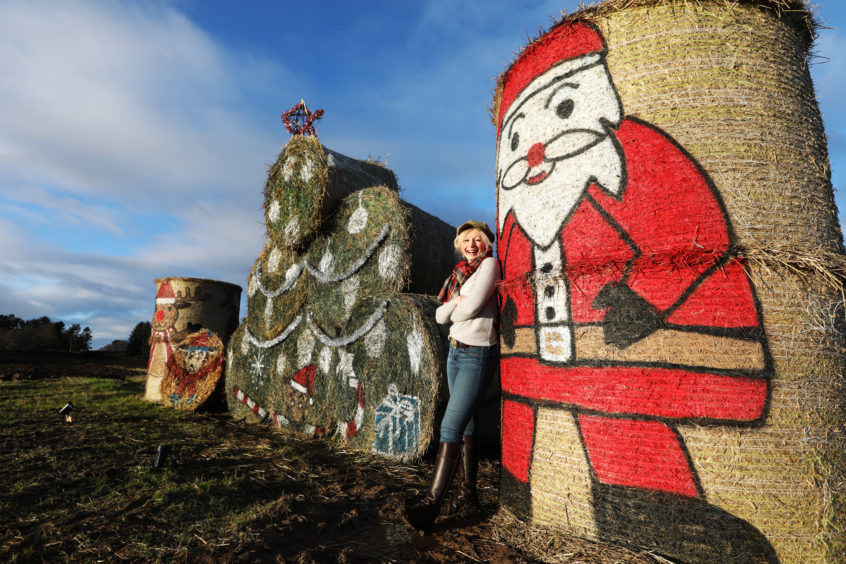 She said: "I was attending a St Andrew's dinner when some of the guests asked what I was doing for Christmas this year?
"'Oh well just the same as every year', I replied, 'I'll be cooking the roast at home, but with smaller numbers as my father is too poorly to travel….'
"Not Christmas Day they exclaimed – we mean your bales.
"'What are you going to do about your bales this Christmas?' they asked.
"So expectations are high, and the locals of Monikie are on the lookout, and as the field where Dennis the Menace and his naughty chums resided is gradually becoming reduced to an ever decreasing island, surrounded by muddy plough in preparation for next years spring crops, I thought I should act swiftly.
"I did a pen to paper scrawl and recycling Dennis, Minnie, Gnasher, Dan and the pie became an easy landscape of the tree, Rudolph, Santa and a lamb.
"The straw is completely ruined once stacked end to end, as it has no resistance to the elements and we have had a lot of rain.
"So it was a case of using what was there and certainly not adding any more.
"The surfaces of 'weathered' bales really aren't as perfect for taking paint, but these won't be here long as before we know it Twelfth night will have arrived!"
---
---
Mrs Baxter said she will continue to put her art to good use because she admits the positive feedback is lovely.
"Drivers are smiling and people turn up for a selfie," she said.
"It's a bit of an odd thing to do admittedly and it was torturous in the cold this week, not to mention the wind and rain.
"But I think we are all tired and worried by Brexit, there's never really any good news…so perhaps if you can make one person have a wee smile on a rainy day, it's a very nice thing indeed."
When she isn't creating her masterpieces, Mrs Baxter is working on the farm and looking after their menagerie of ducks, chickens, two horses, two cats, two dogs and two pet sheep.
Her art has been praised by hundreds of people after being featured on the Strange Places in Scotland Facebook page.