Angus-based MasterChef finalist Dean Banks has teamed up with the Steeple Church in Dundee and Hard Grind barbers to provide Christmas dinner, with all the trimmings, for up to 120 homeless people.
Mr Banks, who reached the final of the hit television show after just edging the judges' vote in the last semi-final on Thursday night, contacted organisations offering to help cook Christmas lunch for people who faced being alone at the festive season.
Mr Banks said: "The Steeple Church provides a Christmas lunch each year, and Parish Nurse Barbara Mcfarlane and her team usually have to go out and do all the shopping and preparation for it, and I just wanted to get her the helping hand they deserve.
"It is a fulfilling thing to do, and it means I can put something back into the community.
"I'm very much looking forward to it, and I'm really excited to be working with the Steeple Church and Hard Grind barbers.
"I call Barbara a Parish Nurse with purple hair, but I know she has sleepless nights planning the Christmas lunch each year.
"I've been reaching out to businesses, such as supermarkets to ask for donations, and the response has been incredible.
"Catering suppliers Brakes have been amazingly generous, and Asda have stepped in with a donation of ingredients as well, and Malmaison will provide the turkey, which they have kindly done in the past.
Barbara Macfarlane, a parish nurse for the Steeple Church said: "I'd like to wholeheartedly thank Dean.
"I'm a nurse, not a chef, and I'm usually sweating at this point with all the shopping and preparation that has to be done.
"He has lifted a huge burden from me, and I am deeply moved by his amazing generosity.
"I am also extremely grateful to Hard Grind barbers, Claire Bee who is providing music, and all the volunteers who are turning out to help.
"I like to think of Dundee, not just as the city of discovery, but also as the city of recovery, as we help those who need assistance."
Vincent Quinn of Hard Grind barbers said: "We already do work which helps less fortunate people, such as giving regular haircuts at a local shelter, so we are delighted to be helping out on this project.
"Getting a haircut and a nice meal always makes people feel good inside, and it's great to be taking part in this.
"There will be two of us giving as many haircuts as possible before and after the meal."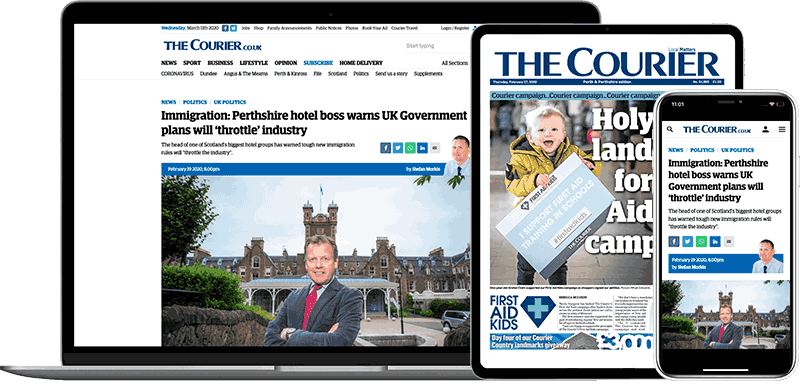 Help support quality local journalism … become a digital subscriber to The Courier
For as little as £5.99 a month you can access all of our content, including Premium articles.
Subscribe