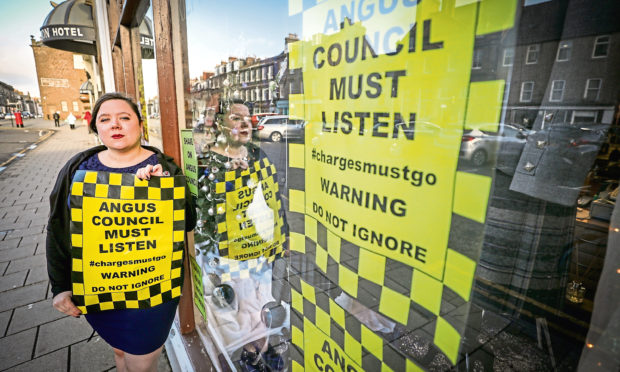 Furious businessfolk battling Angus Council's off-street parking charges have called for the political head of the authority's former leader in the wake of a blistering criticism of their campaign.
Independent councillor Bob Myles has been told he should consider resigning after saying local shops should display goods in their windows rather than posters protesting the controversial charges.
In a letter to The Courier, the Brechin and Edzell Independent said he was "puzzled" by the high-profile strategy which has seen hundreds of posters plastered in premises across the district.
Mr Myles said: "If I had a high street business, I would use my shop window to encourage the public to come in and benefit from shopping locally."
The ex-coalition chief's comments provoked a furious reaction.
Michelle Ingram of Highland Scene in Montrose, part of the Angus Business and Retailers Association (ABRA) set up in response to what traders have branded a "stonewall reaction" from the authority said: "Unlike the council-imposed parking charges the poster campaign has not served to discourage customers from shopping locally.
"Rather, it has served to show the public that we, like them, are unhappy with the parking charges and to show that the whole of Angus, with the exception of councillors such as Mr Myles stands against the charges.
"We wished to open a dialogue with both the council and the public regarding the charges, however it is disappointing to see a councillor reacting in such a way.
"Perhaps Councillor Myles would understand our position better had he taken the time to come into local businesses and discuss it, rather than writing this letter.
"I would invite him to go out into his local community and speak to business owners and see how they have been affected, rather than making statements that do little more than highlight how completely out of touch with the Angus public he is.
"If he does this I am confident that he will find businesses and the public as a whole are unhappy and I look forward to reading his letter of apology.
"However if he does not deign this exercise to be a valuable use of his time I would question his commitment to the people of Angus and I would call for him to tender his resignation."
Kirriemuir businessman Barrie Ewart, who led a noisy petition protest at Angus Council's Forfar headquarters said: "If the council was listening there would be no need for posters.
"They are just not addressing the questions and concerns, and there has been no suggestion of concession or compromise.
"All they are doing is cutting off their nose to spite their face."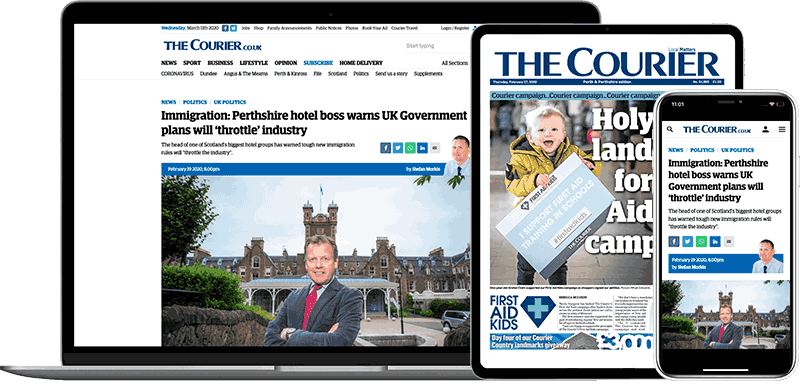 Help support quality local journalism … become a digital subscriber to The Courier
For as little as £5.99 a month you can access all of our content, including Premium articles.
Subscribe