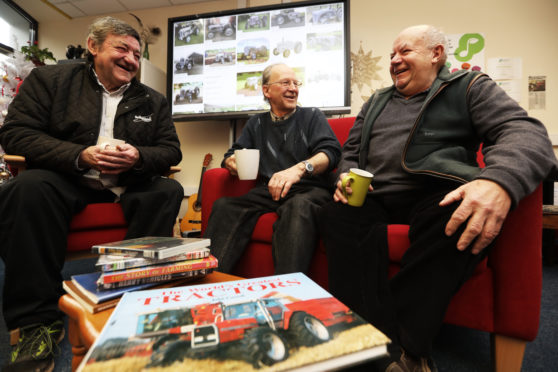 An Angus dementia project is expanding its work to support members of the farming community.
Kirrie Connections has launched a new project to encourage those who spent their lives working the land to join together in its Bank Street hub, to share their memories and make new friends.
Like longer-established football memories and golf memories groups, the weekly sessions encourage people to reminisce about old interests with the help of photos and objects.
Organisers say the farming memories project is particularly helpful since isolation can be a real issue for people in the countryside.
The group was set up as part of the work carried out by the hub and the local community mental health team.
Hub manager Graham Galloway explained: "Working with the team, we identified farmers were quite hard to engage with.
"Now we have a session every Friday morning specifically about farming and working the land.
"We've had six people attend the sessions so far and every week there are lively discussions about farming techniques, old technology and shared memories.
"Our participants often bring in personal books, photos and objects that will trigger further discussions and shared reminiscing."
Anybody is welcome to join the group, male or female, and it is not solely for those living with dementia.
Project leaders say the discussions will be of interest to anyone who worked on the land, in any capacity.
Graham continued: "This is an inclusive group. Our work with the community mental health team identified people coming from a farming background were hard to engage with through more traditional activities.
"Kirriemuir is a rural community with a lot of people who worked on the land.
"We have had people bring in a variety of different things, DVDs on farming and farming techniques, pictures and books about the history of the local area and farming — all things which trigger conversations to get people reminiscing and get them chatting.
"For those living with dementia, it can be very isolating which can double up if someone lives very rural.
"As well as being an opportunity for social intervention, the farming group gets people together, opens up new friendships and increases social contact."
The group is now actively recruiting new members and volunteers to help run the sessions.
Anyone with knowledge of the land, or farming, hunting or fishing would be very welcome.
The group meets on Friday mornings from 10-11.30am.
Anyone interested in joining or helping as a volunteer is asked to contact Graham via email on  graham@kirrieconnections.com or pop in to the hub.
People are also welcome to take along any objects which would make a good talking point.