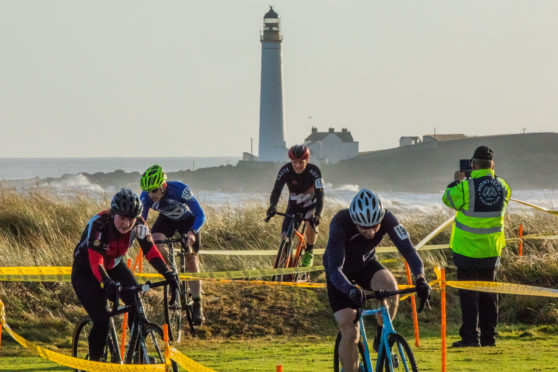 Hundreds of cyclocross enthusiasts from across Scotland descended on Montrose yesterday to take part in a thrilling competition at the East Links.
MoX, north east Scotland's inaugural Links Cross event, brought an exciting and challenging new round to the Super Quaich Series 2018 as well as hundreds of cyclocross fans to Angus.
A specially constructed course at the East Links, incorporating the dunes and the playpark, tested the skills of beginners and the elite alike during two races.
The sold-out event was organised by Andy Inglis, Douglas Glen and Matt Gibson, all from Montrose, who set up the Montvelo Cycling Club a year ago.
Club chairman Andy spoke of the group's determination to put Montrose, and Angus, on the cyclocross map with plans for future competitions to be held in the town.
He said: "We had 200 riders coming to Montrose – from Inverness, Tweedbank, Ayr, Edinburgh, Glasgow, Aberdeen, Dundee and Shetland – from all over Scotland.
"This is great for Montrose and Angus as a whole as it is bringing hundreds of people to the area.
"We have been building the course, which is 1.4 miles long, with hurdles, bits off camber and a bit from the sandpit in the playpark."
The cyclists use cyclocross bikes, which look like road bikes but have bigger tyres.
Andy, 32, an engineer at event sponsor BHGE, said: "Basically it's one course and the competitors go round and round obstacles.
"At some points they have to dismount and run with the bike.
"Our race is part of the super plate series and is the first of what will definitely be an annual event."
The competition took place in glorious sunshine with Andy hailing it a huge success.
He said: "It's been amazing, we couldn't have asked for better.
"We have had a lot of good feedback from the competitors, it's all very positive.
"With free entry for spectators we wanted to encourage as many people as possible to come down and support MoX, not only to  cheer on the competitors,  but also to inspire future  talent."