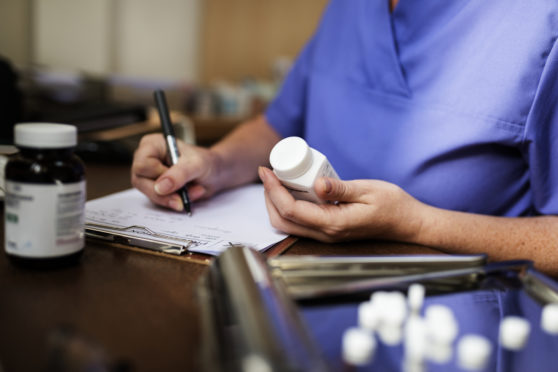 Angus health chiefs are beginning to turn the tide of rising prescribing costs and have helped to bring about an underspend of £1.6million.
Members of the Angus Health and Social Care Integration Joint Board were given an update on the financial position by Alexander Berry, chief finance officer, when they met in Forfar.
In presenting the report he said: "There is no new bad news in here."
His report found the overall projected financial position for Angus IJB for the year to March 2019 is of an under spend of  around £1.6million.
For local hospital and community health services, for 2018/19, the vast majority of services are currently projecting underspends or near break even positions.
Mr Berry's report stated: "This reflects good progress made in both 2017/18 and early 2018/19 with delivery of savings and cost containment, including,  good progress within community nursing services.
"There are some overspends within 'other community services' – these relate to the interaction with other services and this presentation will be reviewed in coming months."
There is a forecast underspend of  around £2.7m for local hospital and community health services.
An overspend of  about £520,000 is predicted for services hosted elsewhere on behalf of Angus IJB.
He found the main contributors to this over-spending position are pressures within adult mental health services (overseen via Perth IJB) and pressures within palliative care, brain injury and psychotherapy (overseen by Dundee IJB).
Turning to family health service prescribing, Mr Berry said considerable work continues at both a Tayside and local level.
He said: "Current projections are for a year-end overspend of  circa £1.6m.
"Assuming no material deterioration in this projection, this is lower than previous forecasts for this year, markedly lower than previous years and is major contributing factor to the IJB's overall improved financial position this year."
Regarding general medical services and family health services, there is a projection for a £68,000 overspend.
This is partially attributable to provision of general medical services in the likes of Brechin where NHS Tayside is directly managing GMS services.
The meeting heard the IJB is currently projecting a year end underspending within adult services of £1million.
Taking into account all the projected over and underspends, Mr Berry concluded: "From the above it can be seen the IJB is forecasting an overall underspend of c£1.6m.
"This is attributable to improvements across a range of issues. All information is preliminary at this stage and subject to multiple risks – particularly refinements to prescribing projections.
"This position is materially better than could have been predicted at the start of the year."