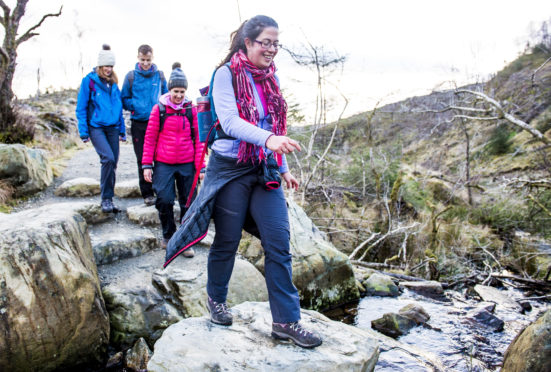 The Ramblers group is encouraging those feeling isolated or lonely this festive season to join a group stroll during its annual Festival of Winter Walks.
Running until January 6, there are 54 walks available throughout Scotland with many taking in the glorious scenery of Courier Country.
While Christmas adverts bombard us with images of cosy family scenes and social gatherings, new research by the Ramblers shows a different picture, with about one in seven adults (14%) surveyed in Scotland feeling lonelier during the festive season.
The 54 Ramblers groups are offering a selection of sociable festive walks, giving everyone the chance to enjoy Scotland's wonderful winter landscapes and make new friends along the way.
Following the Scottish Government this year publishing its draft strategy for tackling loneliness and social isolation, a new survey commissioned by the Ramblers shows the festive season can exacerbate such feelings.
More than a quarter (27%) surveyed by the Ramblers said they would be spending all or some of the holiday period alone.
Jess Dolan, Ramblers Scotland's director, said: "We know the festive season can be a particularly difficult time for people who are feeling isolated or lonely.
"Getting involved in the Ramblers Festival of Winter Walks offers you an exciting chance to enjoy the physical and mental health benefits of exercising in nature, in the company of a welcoming, supportive group of people."
Among the walks in Courier Country are a leisurely five-mile stroll along the River Tay in Perth; a mystery tour of Brechin; a woodland wander at Falkland and  a leisurely Backmuir Woods and Drovers Road walker near Camperdown Park in Dundee.
As the scale of the loneliness epidemic becomes increasingly clear, with loneliness linked to heightened risk of depression, Alzheimers and coronary heart disease, this year's Ramblers Festival of Winter Walks is focusing on the social side of walking and the importance of meaningful social contact.
Kim Leadbetter, Jo Cox Foundation ambassador, said: "I am passionate about the role of physical activity in addressing the issue of loneliness, and walking is a brilliant way of connecting people.
"Along with the physical benefits of getting out and walking there are huge psychological and social benefits too.
"I am delighted Ramblers is promoting Winter Walks as a way of bringing people together during the festive season when, as their research shows, many of us can feel lonely."
The festival of walks is supported by the People's Postcode Lottery.
To find a winter walk near you, visit www.ramblers.org.uk/winter