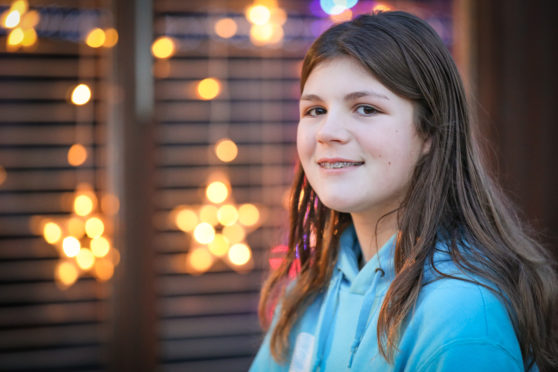 A teenage swimming star from Angus is facing seven months out of action as she fights back to fitness following major spinal surgery.
Gabby Winton, 13, of Montrose, has had to take a step down from competitive sport after having two metal rods and 11 screws inserted to correct a curvature of the spine.
The youngster, who has swum for the Arbroath St Thomas club at national level, was only diagnosed with adolescent idiopathic scoliosis, or curvature of the spine, after a friend commented on her shape.
Her mum Angela said: "She had spinal fusion surgery but cannot swim for seven months.
"Her spine was so bad that, had we left it another six months, she would never have swum again.
"This is an important story to tell as it's so easy to miss, yet it is so common in girls this age."
The Montrose Academy pupil was diagnosed in May and had surgery at the Royal Sick Children's Hospital in Edinburgh earlier this month.
The scoliosis, or curvature of the spine had progressed rapidly in that time.
Angela continued: "The spine was curving to the right; if we didn't get it fixed, there would have been a compensatory curve at the base of the back which goes the other way.
"They would then have had to operate at the base of the spine and she would have lost all flexibility.
"She would never have been able to swim again. We just caught it in time."
Gabby has been helped on her road to recovery with a get well message from Olympic swimmer Hannah Miley.
Hannah also put Gabby in touch with her swimming friend, the Australian Olympian Jessica Ashwood, who had the same spinal condition and the two have been corresponding with each other.
She was also cheered when Princess Eugenie wore a wedding dress designed specially to show off her scars.
The Queen's granddaughter had major surgery on her back to treat a curvature of the spine at the age of 12. In October she wore a wedding dress that showed her scar, saying she hoped it would honour those who had helped her and inspire others with the condition of scoliosis.
Gabby said: "I got a message from Hannah Miley wishing me good luck.
"I am just glad they caught this in time. I thought it was really good Princess Eugenie showed her scars on her wedding day."