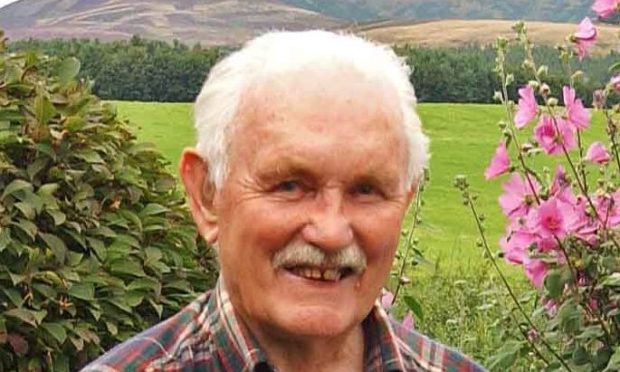 Former MP, farmer and community leader David Myles has passed away, aged 93
Born in Glen Prosen, Mr Myles was educated at Cortachy, and completed his schooling at Brechin High School, but left to take a job at Brechin Auction Mart.
He often said he learned much from his two years in the mart office that would give him the business experience he found so useful in later life.
Called up to serve in the Royal Marines in 1943, David saw active service in Holland, crossing the Rhine into Germany to Lubeck and Keil, as part of the first allied forces in the area, and witnessed the surrender of the German fleet.
After the war, Mr Myles returned to work as a shepherd at Dalbog farm, gradually taking over more of the running of the farm from his father.
Marriage came in 1951 to Janet Gall, and the couple had four children, Catherine, Robert, Lorna and Peter.
In 1958, David took over the running of the farm from his father, and also became director of Kincardineshire Auction Mart.
Having developed a keen interest in politics, Mr Myles was a keen supporter and friend of Alick Buchanan-Smith, before standing for election himself, winning the Banffshire seat for the Conservatives.
Mr Myles proved to be a popular figure in the commons, earning the respect of fellow MP's and staff alike.
Leaving Westminster in 1983 to contest Orkney and Shetland, his own seat having been merged due to boundary changes, David received a note from a group of Labour MPs, wishing him well adding: "If there have to be Tories in the House of Commons we hope you are one of them".
Mr Myles came second to Liberal Democrat Jim Wallace, and ahead of the SNP's Winnie Ewing.
Taking the opportunity to become more involved in the local community, Mr Myles became President of Brechin Rotary Club, and was appointed to a range of bodies including the Hydro Board, Potato Marketing Board, Dairy Quota Tribunal Committee and the Transport Users Consultative Committee.
Politics called once again, and David won the Edzell and the Glens ward on Angus District council in 1984.
His political and community work was recognised in 1988 when he was awarded the CBE in the Queen's Birthday Honours.
A talented musician, and lifelong enthusiast of the work of Robert Burns, David was a regular speaker at Burns Suppers throughout Scotland.
Mr Myles and his wife Janet, who predeceased him in 2012, had four children, twelve grandchildren and eight great grandchildren.