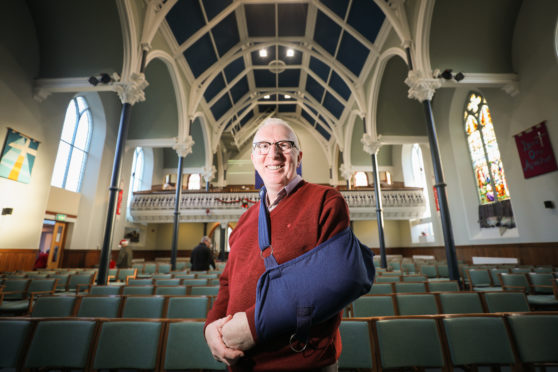 A Tayside minister who lost the use of his arm after a freak accident is counting his blessings after battling back to health.
Rev Martin Fair from St Andrews Church in Arbroath was told there is nothing that can be done to fix his upper arm which remains entirely detached from the elbow.
Mr Fair was off work for a number of months after falling awkwardly when he took a tumble after jogging back to his car following a meeting.
He has now returned to work full-time and is now looking forward to putting a difficult 15 months behind him and move into 2019 with renewed optimism.
Mr Fair recently bought a specially-adapted car which has allowed him to get back out on the road and be fully independent again.
"I'm not in the slightest bitter about being left with this disability," he said.
"Everywhere I look, there are people dealing with much worse situations and when I start to count my blessings I quickly realise how much I've got going for me."
Mr Fair trained at the Faculty of Divinity at Glasgow University, then had a two-year appointment with the Church of Scotland congregation in Bermuda.
Upon his return to Scotland, he fulfilled a six-month contract as associate minister at St Mary's Church in Dundee before moving to St Andrew's Church in Arbroath in 1992 in his first charge as a Church of Scotland minister.
During Mr Fair's time as minister, the church has become involved in many community initiatives, most notably their addiction service Havilah which was started in 2006.
It won a Queen's Award for Voluntary Service and the church is now extending its support to people who struggle with poor mental health.
Mr Fair said: "During these 15 months when I wasn't able to drive, my family and members of my congregation were fantastic in running me from here to there on pastoral visits etc.
"But it's great to be independent again and to be able to get to where I need to go – often at very short notice – without having to be reliant on others.
"That said, I'm determined to walk more!
"I've never walked so much as during this last year or so and there's no better way for meeting people and chatting – so much more sociable than driving by with nothing other than a wave.
"My new car allows me to perform all of the necessary functions – indicating direction and so on – with my 'good hand' without otherwise having to let go of the steering wheel.
"Most of all, having come back to work full-time in the autumn, and now being independently mobile, I'm loving being back doing what I love doing – ministering to my congregation and more widely across the Arbroath community."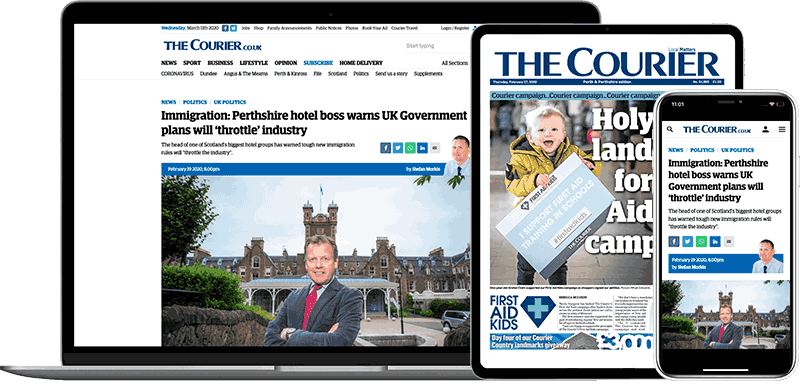 Help support quality local journalism … become a digital subscriber to The Courier
For as little as £5.99 a month you can access all of our content, including Premium articles.
Subscribe