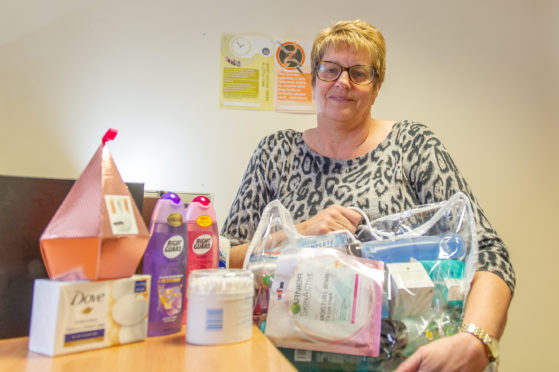 An Angus woman moved by the plight of those struggling to make ends meet has started a collection of toiletries for the Angus Foodbank.
Gillian Davidson, 59, of Forfar has been overwhelmed with the response and is asking anyone with unwanted Christmas gifts to consider donating them to help others.
Gillian has been a volunteer with the Citizens Advice Bureau in Angus for the last 20 years.
There, she became aware of the valuable work of the Angus Foodbank and how it helps families in need.
She recently discovered they also distribute toiletries to families, but stocks are running low.
She said: "Whilst volunteering at Forfar CAB I became aware the Foodbank also distributed toiletries.
"They are quite short of these and I wanted to do something to help.
"I put a post on my Facebook page and the real Forfar Facebook page – within a week I have taken two car boot-loads of toiletries to the foodbank.
"At Christmas we usually get lots of stuff that isn't always used. If so, can you spare it? Or can you pick up an extra something when shopping?
"If you can spare anything, no matter how small, I would be so chuffed."
Shampoo, shower gel, toothpaste, tooth brushes, sanitary products and other toiletries can all be donated.
To date, Gillian has been overwhelmed by the generosity of the people of Forfar and cannot thank them enough for their support.
Norman Brown, manager of the Angus Foodbank, praised Gillian's "great idea" of asking for unwanted toiletries received as Christmas gifts.
He said: "This is a great way of passing on unwanted gifts.
"A lot of people don't realise we give away toiletries, as well as baby food, nappies, dog and cat food."
He thanked the people of Angus for their generosity in the run up to Christmas which will help them through the start of the new year.
"As usual, in November and December, we were inundated with food coming in. The people of Angus are so generous.
"On a weekly basis we feed 85 people out of the three foodbanks in Forfar, Montrose and Arbroath."
The appeal for toiletries will run until the end of January.
Donations can be handed in to the CAB office in Queen Street and the Castle Street branch of The Nationwide Building Society in Forfar.
Donations of food can also be made to the three Angus foodbanks.