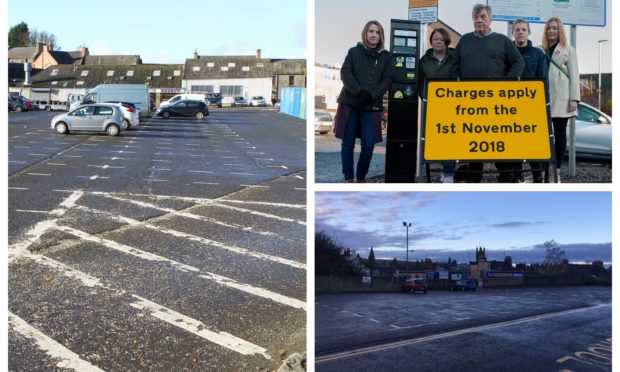 SNP councillors are considering an emergency move to suspend parking charges in Angus.
Group leader Lynne Devine said the Nationalists would hold a special meeting at which  the prospect of demanding an emergency meeting of Angus Council would be raised as anger over the introduction of parking charges intensifies.
The pledge was made following a meeting with campaigners spearheading efforts to have the policy reversed.
The charges have proved hugely contentious since they were introduced on November 1, leading to angry protests and even vandal attacks on four of the card-only machines.
The cash-strapped local authority, which has resisted calls to install meters which accept cash, or to allow free parking in the run-up to Christmas has predicted the scheme could raise £700,000 a year.
However, at current rates, machine-generated income would fail to achieve that.
Ms Devine said: "The drop-in event at Kirriemuir strongly demonstrated that the anger around the introduction of car parking charges has not gone away, as some predicted.
"We listened very carefully to the concerns raised by business owners who told us in no uncertain terms that these charges, and the unwillingness of this coalition administration to take remedial action, is having a profoundly negative impact, and threatening not just people's livelihoods, but also the vitality of our important town centres.
"We will, of course, be taking these views forward to the council's scrutiny and audit process commencing in January.
"However, we are also looking very closely at what other action can be taken and will be discussing this at a special SNP group meeting. This includes exploring the possibility of calling an emergency council meeting."
Kirriemuir businessman Barrie Ewart said the "crazy idea" should be suspended because the profit predictions were wrong.
Mr Ewart has predicted an expected loss of around £45,000 per year based on figures supplied by Angus Council under freedom of information.
They take into account £240,000 set-up and £500,000 per annum warden costs (although these staff cover more duties than parking enforcement) and make assumptions around the number of tickets and permits already sold.
He said: "They would need a majority vote to suspend the scheme but I promised we would give them public demonstration support and would name and shame any who voted for the scheme to be upheld.
"Let's hope we can get some action before it's too late.
"We have already seen job losses and potential business closures in Kirriemuir and Brechin."
Angus Council stressed the £500,000 attributed to parking enforcement, was not new expenditure, but was already budgeted for as part of other community enforcement spending.
A spokesman for Angus Council said: "No emergency motion has been lodged to date.
"It is also important to state that the enforcement team and costs remain as previously in place for community enforcement duties, including litter, dog fouling and decriminalised parking enforcement.
"The costs of the enforcement warden service is not a consequence of the roll-out of off-street parking charges."
There has been a marked fall in the number of people using council-run car parks and a survey of more than 50 businesses by the Angus Business and Retailers Association (ABRA) revealed more than 80% have been hit by a downturn in trade.