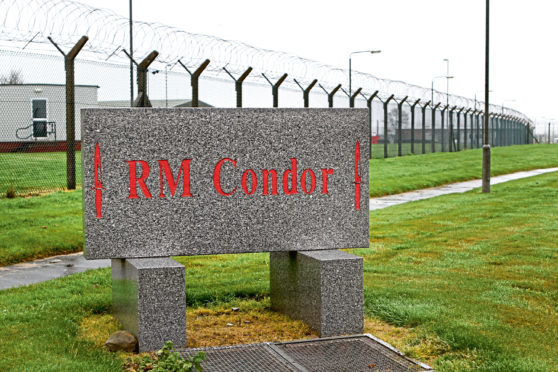 A furious war of words has broken out over a petition launched to safeguard the future of  Condor military base.
The row broke out after it emerged Angus Conservative MP Kirstene Hair is collecting signatures to "retain and strengthen" RM Condor in Arbroath.
When the possible disposal of a large tract of land at RM Condor was first mooted in February, Angus South SNP MSP Graeme Dey expressed fears this might undermine the future of 45 Commando Royal Marines at Condor.
Ms Hair accused Mr Dey at the time of causing "unnecessary distress" with his "scaremongering".
He expressed surprise when it emerged Ms Hair has launched the petition to 'keep RM Condor open'.
"Ms Hair really does need to explain to the people of Angus what has prompted this apparent complete volte-face on her part over the future of RM Condor," said Mr Dey.
"Just a few short months ago she was condemning myself and other SNP politicians for questioning the long term commitment of the UK Government to the base.
"Now she is seeking support for a petition directed at her own Government which raises the very same concerns.
"Either she has finally woken up to the situation or this is an exercise in self promotion.
"She really does need to explain what, from her perspective, has changed since February."
The Ministry of Defence published its Better Defence Estate strategy in 2016, which outlined disposal of the former airfield at Arbroath by 2020 as part of a drive to optimise land use by the armed forces.
It is hoped land at the base is to be developed as part of the Tay Cities Deal for housing which Mr Dey said "does greatly reduce the base footprint and in so doing raise concerns over the operational capacity of 45 Commando".
He added: "Scotland and Angus need clarity on whether the MOD intends to relocate these facilities on what remains of Condor and if they don't then what does that mean for the Marines?"
Ms Hair's petition is calling on the UK Government to "retain and strengthen the base" and will be available to sign in Arbroath, Forfar and Montrose.
She said: "People throughout Angus will be bewildered by this intervention by Mr Dey.
"From my election campaign to the present day, I have always outlined the importance of RM Condor and this petition allows local people to also voice their support.
"Having visited the base on many occasions, as well as welcoming the Defence Secretary to Angus, and asking questions in the House, the UK Government are well aware of my views on the long term future of the base.
"Perhaps Mr Dey should focus on the issues he can affect in Angus, such as halting the centralisation of healthcare, looking into the number of cancelled operations and cutting waiting lists to see healthcare professionals.
"Unfortunately the SNP are only concerned about scaremongering for a headline instead of trying to make a difference in their local area and the people of Angus can easily see through such petty political games."
Ms Hair recently asked the UK defence secretary Gavin Williamson to commit to RM Condor's status as an "integral part" of the country's defence estate.