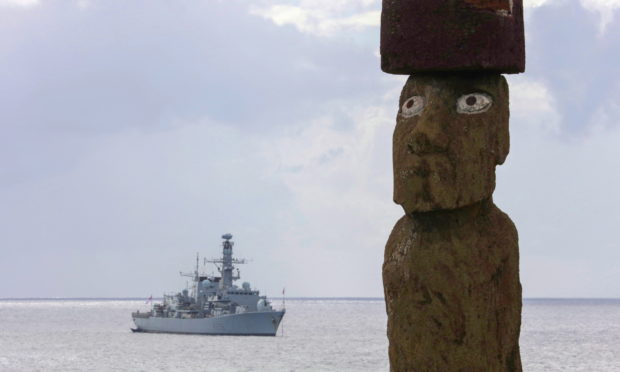 Angus-affiliated HMS Montrose spent the end of Christmas at Easter in a historic Pacific stop-off during a three-month deployment of firsts for the warship and its crew.
Currently bound for Bahrain where she will be based for three years as part of the UK's commitment to Middle East security, the Type 23 frigate's Boxing Day schedule took her to Easter Island – 2,500 miles off the west coast of South America.
It is thought to be the first time this century a British warship has visited the remote Chilean territory, which is around 15 miles long by almost eight miles wide and home to fewer than 8,000 people.
The Polynesian triangle settlement's fame arises from its near 1,000 monumental statues, or moai, created by the early Rapa Nui people.
The frigate arrived at the island on Boxing Day as she continues her epic voyage 'the wrong way around the world' from Plymouth to Bahrain.
After a high-profile visit to Chile, which saw sailors join Princess Anne in 200th birthday celebrations of the South American nation's navy, Montrose headed into the Pacific, bound for New Zealand via Easter Island.
She spent Christmas Eve and day at sea, marking the festive period in Royal Navy style with a nativity play on the flight deck and sailors dressing up as Mary, baby Jesus, the Wise Men and other figures from the Christmas story.
The ship's chaplain, the Rev Peter Dixon led a watchnight service, with many of the Montrose crew rising early to watch the Christmas Day sun rise over the Pacific.
The warship arrived off Easter Island the following day, with all on board given the chance to go ashore and see the ancient statues at Ahu Tongariki, before visiting the quarry from which the stone came at Rano Raraki.
HMS Montrose CO, Commander Conor O'Neill said: "This is already a deployment of 'firsts' and incredible experiences for junior and senior sailors alike – crossing their first ocean when we traversed the Atlantic, transiting the Panama Canal, and, as part of our Pacific voyage, we all got to enjoy a truly once-in-a-career opportunity to visit the ancient civilisation of Easter Island.
"We know that our families are working hard at home keeping things going whilst we are way, and we are all grateful for the support they and our friends give us, especially during the festive period."
In July, Angus welcomed Montrose and her 186-strong crew to the ship's namesake port for a first visit since 2014.
The vessel was on her way home following a training exercise in the Baltic Sea alongside counterparts from the Finnish and Swedish navies.