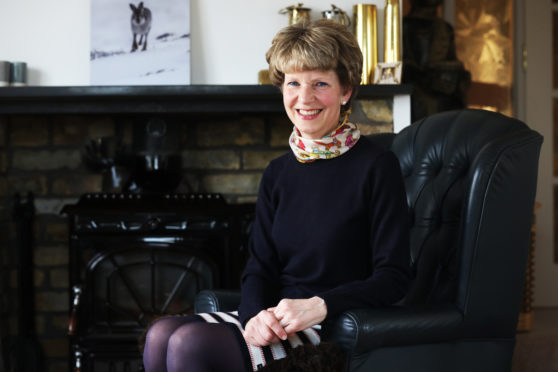 A Montrose woman has told how the death of her father inspired her to help blind and deaf people.
Gilli McCulloch, 56, is now urging other people in Dundee and Angus to sign up with North East Sensory Services (NESS) which has been seeking people to help support blind and deaf people throughout the region.
One-to-one support volunteers are required and will be matched with someone who is either housebound or requires support to leave the house.
Gilli said: "Since my father died some years ago I realised how difficult it was for my mother to do some of the things dad and her use to enjoy together.
"It is not the same being on your own. Although she doesn't have any disabilities, advancing years mean her eyes and ears aren't quite as sharp.
"It suddenly made me more aware how very difficult it must be for people with disabilities to get out and about, not only for the usual routine things but also to be able to enjoy social occasions.
"As children we were encouraged to volunteer and it seemed very natural to carry on as life progressed.
"Working away from home for many years it left little time to volunteer on a regular basis.
"Then a period of living overseas followed and I had the opportunity of working with Riding For The Disabled and also via The Cathedral, Teaching English To The Migrant Workers.
"I thoroughly enjoyed these activities and once living back in Scotland, wanted to find a volunteering opportunity."
NESS, an independent local charity and the first integrated joint sensory service in Scotland, delivers information, equipment and support.
Gilli said she has enjoyed meeting up with all manner of people she probably would not have otherwise met.
"It has made me appreciate more just how hard it can be to carry out tasks that we take for granted and the continuing efforts required by many people, often without a grumble, to have an active lifestyle," she said.
"I thoroughly enjoy the interaction between all the different people.
"It is very much a level playing field, with everybody being able to contribute something.
"Sometimes in a group there are people who have never met, perhaps not going out socially too often, and gradually they start chatting and before long, they are really enjoying comparing notes on different subjects, offering tips about a new gadget they find helpful etcetera.
"Their eyes light up with enthusiasm and that is a very rewarding thing to see."
Gilli is urging others to give up just a couple of hours every few weeks, which she said can make "such a difference to somebody else".