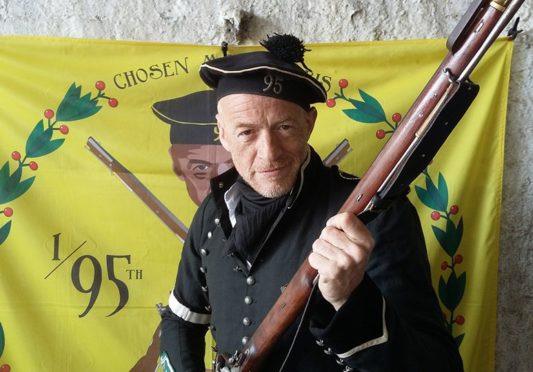 One of TV's most famous riflemen has told how Angus could provide the perfect backdrop for a Sharpe reunion with Sean Bean.
Jason Salkey, who played 95th Regiment 'Rifleman Harris' in the Napoleonic War-set drama, was speaking in advance of of his arrival in "God's country" next week for a spoken word event.
Local man Barry Graham, 56, gave the actor his king's shilling to bring Salkey to 7 Sins in Montrose where he will speak to the "chosen few" about how Bernard Cornwell's epic novels were brought to the small screen.
Mr Graham and his late cousin, John Molloy, founded The George Beattie Project and published a history book containing extensive research on events occurring in Montrose and St Cyrus around the Napoleonic era.
"I had no idea Montrose and Angus had such as Napoleonic history and I will be intrigued to find out more," said Mr Salkey.
"But I shouldn't be surprised as some of Wellington's most fearsome and effective troops came from north of the border.
"As long as there is room to march off over the hills and far away then I'm sure Montrose would do just find as a backdrop for more Sharpe adventures.
"Of course they already did a comeback with the Indian Sharpes some 10 years after Waterloo was aired.
"As my character was brutally hacked down by the producers – I mean the French – at that decisive battle, I will never pull the on the green uniform on screen again.
"There is one book they could conceivably do which is Sharpe's Devil, where Sharpe and Harper sail to South America to help Blas Vivar suppress a rebellion in Bolivia or somewhere?
"On the way, they stop off at St Helena and meet Napoleon.
"The trouble is the story is set five years after Waterloo – therefore Sharpe and Harper showing up as fat, old, grey geezers would make the audience wonder how they could have aged so much in just half a decade.
"But, hey, we live in hope."
Mr Salkey has written a new book, From Crimea with Love, about the role alongside Sean Bean that changed his life forever.
The series was shot mainly in Crimea, in the rapidly disintegrated Soviet Union, where Mr Salkey and the crew went on to create one of Britain's most successful and critically acclaimed television programmes.
Mr Salkey said fans can expect a "humorous, often shocking but always engaging skip through the twists and turns of the making of one of Britain's most loved TV shows".
"It's true that I have never been up Montrose way before, therefore after more than a half century on this earth I thought it was about time.
"And when Barry told me there were many Sharpe appreciators up his way that would love to hear about my story of the making of the show the plan was hatched.
"Aside from some of the most beautiful scenery on offer in the UK – it is God's country after all – I like the look of the museum at the airfield.
"If the weather isn't too brisk I would enjoy a little walk on the sandy beach of the nature reserve where I could show off one of my other passions – frisbee."
Mr Salkey will appear in Montrose on January 22 at 7 Sins on Hume Street at 8pm, with tickets on sale now at the venue.