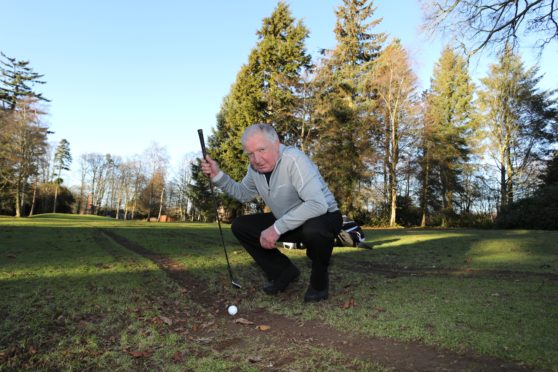 Members of Letham Grange Golf Club have once again been left counting the costs after vandals tore over the fairways in a late night demolition spree.
Green-keepers arrived on Sunday morning to be met by tyre marks cutting across the 17th fairway and the winter tees in the second incident of its kind over the last few months.
The golf club, once hailed "the Augusta of the north", was also targeted by thieves, who made off with a buggy last month. A generator and a drill were stolen and damage was caused to a wall which has had to be repaired.
Club captain Malcolm Turner spoke of the frustration and disappointment felt by green keepers and members as they are left to once again repair the mess.
He urged neighbours or anyone with information to contact the police.
He said: "This is soul-destroying.
"This latest case happened either overnight on Saturday or in the early hours of Sunday morning.
"Our green-keepers discovered it on Sunday.
"There is extensive damage on the 17th fairway of the Glens course."
Mr Turner said it appeared the person responsible had driven on to the course near the back of the club house.
He continued: "It looks like one vehicle has come in and made its way down, over the tees.
"The driver then did 'doughnuts' in the middle of the fairway, ran over the temporary winter green and drove out the main exit.
"It happened just a few months ago, almost in the same place."
He revealed the not-for-profit club was also targeted by thieves during a break-in in December.
He continued: "We had a buggy stolen on that occasion, which was valued at between £1,300 and £2,000.
"We had contractors working on the site and their generator and a drill was taken.
"There was also extensive damage to a wall.
"It's heartbreaking.
"We run at the moment as a not-for profit organisation.
"We are strapped for cash at the best of times, we struggle to make ends meet and then we get this mindless vandalism.
"At the end of the day, the grass grows but this mindless, continued vandalism really is heart-breaking for the green-keepers who have to try to repair this and maintain the course.
"It's so frustrating."
Police Scotland confirmed officers were aware of the weekend incident.
Anyone with any information is asked to contact them on 101.
Opened in 1987 by Sir Henry Cotton, Golf Monthly once bracketed Letham Grange alongside Augusta National, the home of the US Masters.
The club has battled on throughout a long-running legal wrangle over the ownership of the once-thriving hotel at the centre of the estate.
The 19th Century mansion house was at the centre of a title dispute that went through all levels of the Scottish courts system to the House of Lords over the past 15 years.
The case finally reached its conclusion earlier last year.