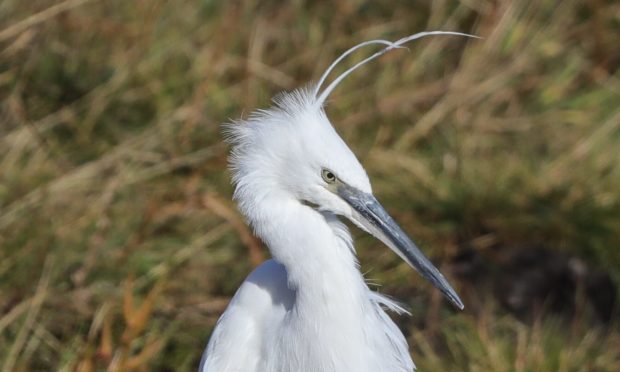 An Angus nature reserve has begun the new year as it ended the old with a watery welcome mat for rare guests.
Little egrets have been catching the eye of visitors to the Scottish Wildlife Trust's Montrose Basin reserve, easily visible feeding on the saltflats of the coastal attraction.
Although not as rare as they once were, the cousin of the more familiar heron is still fighting for a breeding foothold north of the border, with their distinctive "marigolds", the nickname given to the birds' yellow feet.
A trio of little egrets were recorded on the reserve at the weekend, just a couple of months after an even more rare hoopoe stopped off at the basin.
The SWT's Rory Syme said: "A few years ago they would have been considered a rare sighting but they are becoming more common.
"We have had regular sightings of two little egrets throughout the winter and the pools and reed beds around Montrose Basin wildlife reserve seem to be rich sources of food for them."
There have been two little egrets dotting about around the visitor centre today – this video was taken from the Bank of Scotland bird hide at the bottom of our car park. Thank you Alex Shepherd for sending this video through to us.They're such elegant birds! Notice their distinctive feeding technique – they shuffle their feet underwater to disturb their prey out of the mud before lunging forward to catch it with their long bill.📸 Alex Shepherd

Posted by Montrose Basin Wildlife Reserve and Visitor Centre on Saturday, 12 January 2019
He added: "The birds tends to favour the saltpans which means they can often be seen from the visitor centre, and they have also been seen on the reed beds at the Millburn and the Lurgies."
With a thin black beak and long legs, the diminutive white bird feeds in both shallow water and on land.
It is more commonly found in warmer parts of Europe, Africa, Asia, and Australia, but has moved north and the first breeding pair of little egrets in the UK was recorded in Dorset more than two decades ago.
There are now around thought to be around 700 breeding pairs but, so far, no record of successful breeding in Scotland.
Population numbers in western Europe plummeted in the 19th century when hunting of little egrets to provide plumes for hats led to the birds becoming extinct in some areas, before conservation laws were brought in to protect their numbers.
In November, a rare hoopoe brought birdwatchers flocking to the Angus reserve after becoming the reserve's first recorded sighting of a species more at home in the warmer climes of mainland Europe and Asia.
The hoopoe, regarded as sacred in ancient Egypt, has a distinctive crown of feathers and it is thought the 2018 visitor was the first in Angus for around two decades.