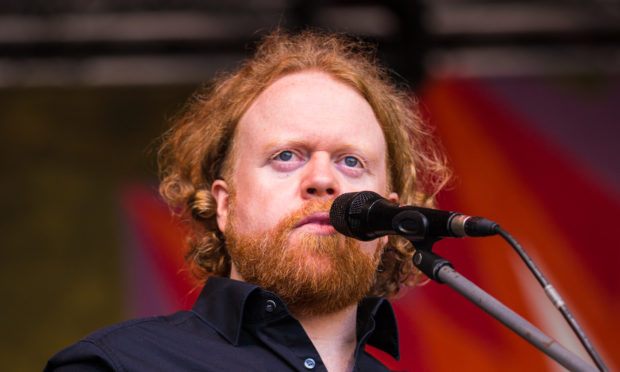 A former Arbroath High School head boy has hit all the right notes in the Scottish sword and shield epic Outlaw King.
Well-known musician Steve Byrne, 40, who now lives in East Lothian, was contacted by musical colleague Jim Sutherland who asked him to help create music for the film.
Said to be the biggest film production ever made in Scotland, and starring Chris Pine and James Cosmo, it is described as the "untold, true" story of how Robert the Bruce used cunning and bravery to defeat and repel the larger and better equipped occupying English army.
Steve, who describes himself as 'Arbroath born and bred' said: "It was amazing to be part of this huge team of musicians celebrating our traditional culture, which I'm afraid does not always get a fair crack of the whip on the big screen.
"There were around 120 musicians from traditional music, Gaelic singers and traditional instruments.
"Not everything we did made it into the film, but a lot of it did, which is great."
"I was contacted by producer and performer Jim Sutherland, and he asked me to come and sing for a movie back in August 2017, and it ended up that I was pretty much employed as the Scots song advisor and the folk singing coach working with the main actors."
As well as a performing musician with the folksong group Malinky, Mr Byrne is involved in research and is connected with the School of Scottish Studies at the University of Edinburgh, and feels that the opportunity to be involved in the project was a "great acknowledgement."
The film, which is available on streaming media service Netflix, was released on November 9 to positive reviews.
The success of Outlaw King has prompted calls for a Bruce Trail of locations throughout Angus associated with the medieval monarch.
Historian Norman Atkinson said: "There are a number of key locations in Angus whose connection with the Bruce is not widely known, such as Redcastle at Lunan Bay, which Bruce granted to the Campbells for their crucial early support of his aims.
"There are also other links such as grants of money to individual institutions for example, that are also very interesting, and could feature as part of the trail."