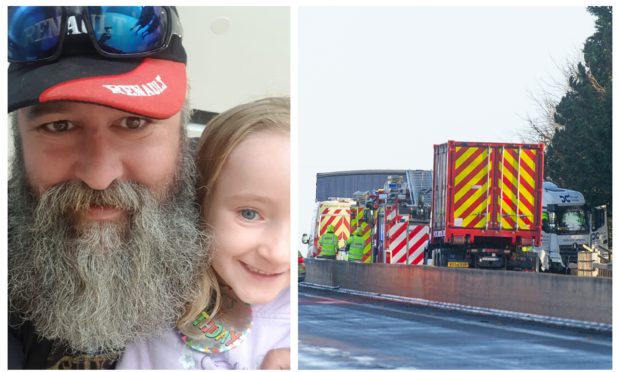 A driver trapped for two hours after his lorry jackknifed on the A90 in Angus is trying to track down the kind-hearted motorist who sat with him until the emergency services arrived.
Carl Greenway suffered a broken vertebrae in his lower back and is recovering at home in Derby after being treated in Ninewells Hospital in Dundee.
He was rushed there by ambulance under a police escort after the accident near Brechin on Thursday.
Carl, 40, is expected to make a full recovery and wants to thank everyone who cared for him.
He said: "I was in the wrong place, at the wrong time with the right people.
---
>> Keep up to date with the latest news with The Courier newsletter
---
"I'm back home now and want to reach out and thank all the services that helped me, and the man who sat in the cab with me until the services got there.
"These people will always be held dear in my heart."
A long-distance lorry driver for 15 years, he described the horror of looking in his mirror and seeing his trailer begin to swing into the outside lane.
He had left Aberdeen at about 8.45am and while there was some snow he said it didn't seem too heavy.
"All of a sudden, out of nowhere, there was a white-out," he said.
"The trailer just went.
Lorry driver cut free by firefighters and taken to hospital as A90 closed between Dundee and Aberdeen
"It pulled the cab to the other lane, I thought I could recover it but out of nowhere the trailer picked up speed and came back into my view.
"The cab ended up at the safety barrier on the inside lane with the trailer right across the carriageway.
"There was a 20 foot drop on the other side."
The father of two was left crying out in excruciating pain as the full-scale emergency swung into action.
Police and paramedics were called to the scene along with four fire and rescue appliances and a heavy rescue unit.
He continued: "A combination of the fire service and paramedics worked to get me out. They told me it had taken two hours.
"But I'm alive, I will recover from this and will get back behind the wheel.
"Everything is still a bit hazy but I would like to thank the paramedics and the guy who sat with me in the cab.
"I was in so much pain I was unable to turn round so I don't know what he looked like. I think his name was Dean.
"I would like to track him down and personally thank him."
He has also pledged to return to thank all the staff at Ninewells Hospital and the hotel he stayed in on Friday evening before travelling home on Saturday.