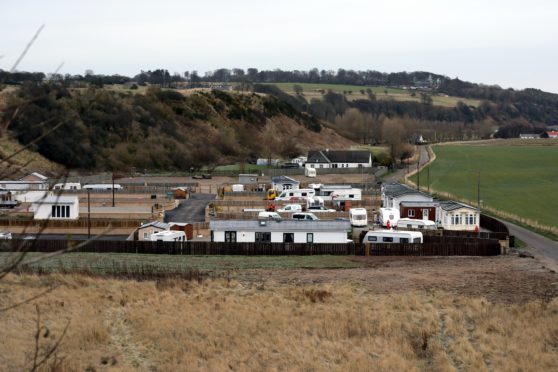 Objectors are calling for a public inquiry as the fallout over an unauthorised Travellers' site at St Cyrus enters its latest phase.
It comes after retrospective planning applications were lodged for a 10-stance caravan park and halting site at North Esk Park in the latest stage in a five-year fight for approval.
Despite a protracted legal battle between the Travellers and Aberdeenshire Council, development on the unauthorised site has continued since the first homes appeared on farmland close to the River North Esk in 2013.
Among those objecting to the latest bid for permission is Kath Smith, whose Eskview Farm B&B is next to the land in question.
She said there appeared to be a clear case for a vote of no confidence in Aberdeenshire Council's planning system which "warrants the demand of a full public enquiry".
Aberdeenshire councillors voted overwhelmingly to grant retrospective permission for the creation of an official halting site in 2016.
However, the application was called in by the Scottish Government when the Scottish Environment Protection Agency (Sepa) objected after revealing the site had flooded in 2002, 2012, 2013 and 2015.
Scottish ministers overturned the retrospective permission and the Travellers were given until July 31 to clear the site.
The local authority then agreed to extend the deadline by six months and has been involved in "continued dialogue" with the North Esk community.
Enforcement action has been put on hold until two fresh planning applications, received in December, are considered.
Mrs Smith accused Aberdeenshire Council of totally disregarding the ministerial decision and "deeming themselves above and beyond the Scottish Minsters".
She said: "By ignoring the ministerial decision they're literally driving a coach and horses straight through the whole planning system.
"This is a clear case of the tail wagging the dog."
In another objection letter, Sue Rore from Nether Warburton said Aberdeenshire Council had a "duty of care" to families to refuse the application.
She said: "To play down the acknowledged risks and to actively encourage a vulnerable group of people to set up their caravan site and remain on land confirmed by experts and widely known by local people to put all residents of this area at considerable risk to life and property is shameful.
"The decision of Scottish Ministers must be actioned.
"Society must have faith in the system. Otherwise, we will have chaos."
Alexander Somerville from Little Kinnaber said he objected to the retrospective application "in the strongest terms".
He said: "Just how long does this nonsense need to continue at taxpayers' expense?"
Site spokesman Alan Seath has told the council that evicting the Travellers would be "inhumane".
Mr Seath said the applicants and their advisers had carefully considered the reasons for refusal issued by Scottish Ministers and addressed them in the new applications.
The retrospective applications will initially be considered by the Kincardine and Mearns area committee before determination by Aberdeenshire Council – potentially at its April 25 meeting.