Contractors have arrived onsite at Arbroath Harbour as the first phase of repair work to the section of wall which collapsed into the sea begins.
In an operation expected to last for around two weeks, rock armour, which is designed to protect the damaged section of wall from the scouring effects of tidal erosion, will be put in place.
At the same time, experts will continue to evaluate the damage and appraise the next steps.
Council Leader and independent councillor David Fairweather said: "I am continuing to liaise with senior Angus Council officers about the collapse.
"Obviously, it is a huge relief that no-one was hurt, and that there were no boats damaged in the collapse.
"The next important thing to bear in mind is that the harbour continues to operate as normal, and although this section of the wall protects the channel into the outer harbour, it is very much business as usual.
"I know that the suggested cost of repairs has been a source of significant concern to some people, but I have to say that these are very early estimates and we hope to have more accurate costings for different solutions in due course, but a lot of work remains to be done before we are at that point."
The damage was reported by fishermen arriving for work early last Monday morning.
An initial inspection found the wall on the inside of the outer harbour, known as the Ballast Quay, had subsided, resulting in a loss of around one-third of the structure.
Chairman of the Arbroath Harbour Joint Consultative Committee, SNP councillor Alex King said: "This is a major issue, which is very much in the hands of the civil engineers.
"There are a number of potential solutions available, and we will examine the options when they are made available."
Initial estimates for the repairs ran into six figures, and one harbour insider pointed the finger of blame at the cash-strapped local authority.
Arbroath quay cordoned off after harbour wall collapses into water
Dredging and poor maintenance caused Arbroath harbour wall collapse, source claims
The source claimed recent dredging work had been conducted too close to the wall, and undermined it, and a lack of regular maintenance could have led to the collapse.
Angus Council was asked to comment on the progress of the repairs but had not done so by the time of publication.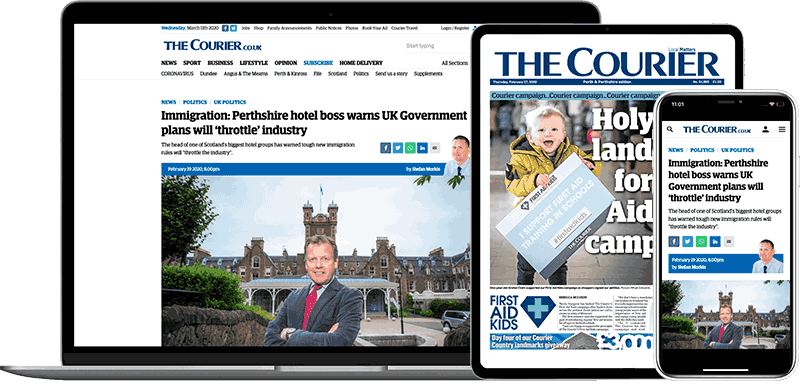 Help support quality local journalism … become a digital subscriber to The Courier
For as little as £5.99 a month you can access all of our content, including Premium articles.
Subscribe