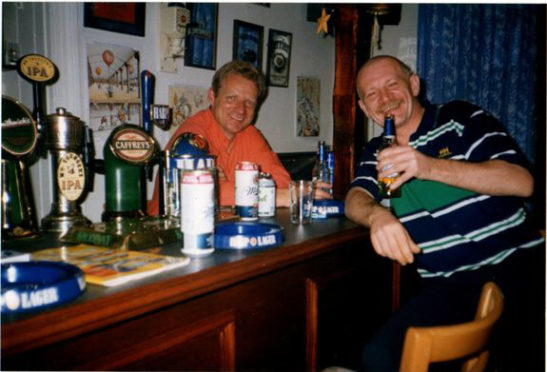 Police say they are "fully committed" to bringing the killer of Carnoustie man Tony English to justice "irrespective of the passage of time".
The case remains open eight years after Mr English was found stabbed to death in his cottage in Kinloch Street on the morning of December 11 2011.
A full-scale police investigation was launched and dozens of officers took part in the operation to try to track down the killer.
Forensic detectives were also called in, while officers spoke to hundreds of locals in a bid to uncover information about the death.
A "stab wound to the forearm" was the official cause recorded on Mr English's death certificate.
Originally from County Antrim in Northern Ireland, Mr English had lived in Carnoustie for around 30 years prior to his death.
He worked as a driller for an offshore firm in Aberdeen and, casually, as a golf caddie.
There were more than 300 people interviewed by officers, who knocked on 165 doors in the town.
A man was charged in the months following the high-profile incident but was freed by the Crown Office pending further inquiries.
A report on the death was submitted to the procurator fiscal in 2012 but nobody ever appeared in court charged with murder.
Police Scotland said the potential for new investigative opportunities "are regularly assessed to maximise the ability to deliver justice for grieving families, irrespective of the passage of time".
Police refused to provide a list of evidence still kept in relation to the case such as items collected during the investigation, statements and questionnaires.
The force said the "disclosure of the requested information at this stage would be detrimental to any ongoing investigations" and "prejudice the force's ability to identify the perpetrators".
It said that as time passes the investigation of such cases can prove to be more challenging, therefore, it is essential that information is disclosed in the correct manner to ensure that neither the investigations nor the potential for any new proceedings to be brought against an individual are put at risk.
Police also appealed to anyone who has information which could assist to contact 101 or go through Crimestoppers on 0800 555 111, where anonymity can be maintained.
Scottish Conservative shadow justice secretary Liam Kerr said: "I think it's very important that any family waiting for justice never give up hope.
"There are great strides made every year in forensic procedure and laboratory analysis. Every crime has a witness, whether it's a person or a scrap of DNA.
"Sometimes it just takes time to find them."