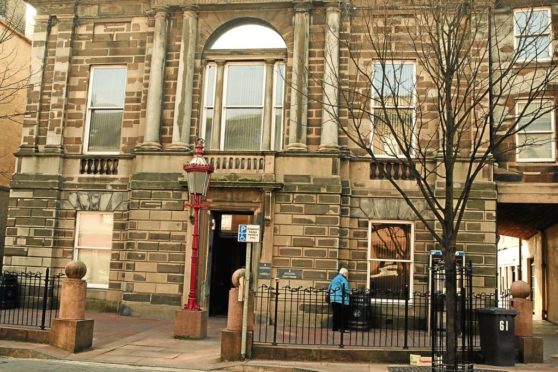 Works of art will be sold off in Arbroath to keep a 19th-century former court building in circulation.
Arbroath Courthouse Community Trust (ACCT) is facing a race against time to prove it has the working capital to carry forward proposals for the High Street building which closed in 2014.
Trust officials are facing the double challenge of raising cash to carry out vital remedial repairs to the landmark property and finance for the future role as a community asset.
The group has secured charity status and said that with SCTS remaining supportive of its ambitions it is now determined to secure the urgent funding needed.
Arbroath-based sculptor Karen Elliot said paintings and prints from prominent artists have already been donated for the silent auction which will take place at Mackay Boat Builders.
Viewing will take place on Friday February 15 from 10am until 6pm upstairs in the premises at Danger Point before the art work is sold off from 10am until 4pm the next day.
"We want to show the grant award and funding agencies that the locals are supportive of the project to make the former court building a community asset," she said.
"Any donations of art works can be taken directly upstairs to the back of Mackay's and be dropped off between Monday-Thursday 9am-5pm and Friday from 9am-3pm.
"Not all auctions are noisy affairs with people shouting out the next highest bid in their determination to acquire the item up for auction.
"Silent auctions have the same goal as a traditional auction – there will be a bidding sheet on each lot where people can leave a bid.
"They can also outbid others and will have until 4pm to win the lot with any price acceptable.
"I'm confident the public will turn out in numbers to support this fundraising event."
People can also phone Karen on 07505316478 for collection of art work if they can't get to Mackay's.
ACCT has nearly 400 members and was recently awarded funding from Architectural Heritage Scotland for an architectural and cost feasibility study of the building.
The Scottish Courts and Tribunals Service gave the Trust until the end of March to ensure there is sufficient working capital for the sustainable development of the building.
The Trust has now embarked on an intensive programme of applying to grant awarding and funding agencies in order to secure the capital and initial revenue costs associated with this project.
The main court building was the
former council chambers and the adjoining building was originally the meeting place for the Arbroath merchants.
Both these civic buildings are listed and have been described as having "significant architectural importance" to Arbroath's heritage.
Trust chairman Angus Roberts said: "Visits to similar community facilities in Fife and Central Scotland were carried out by Trust members in order to give the Trust a better understanding of how such facilities successfully operate.
"In addition local groups and organisations have been contacted and have indicated support for this initiative.
"The Trust has now embarked on an intensive programme of applying to grant awarding and funding agencies in order to secure the capital and initial revenue costs associated with this project."