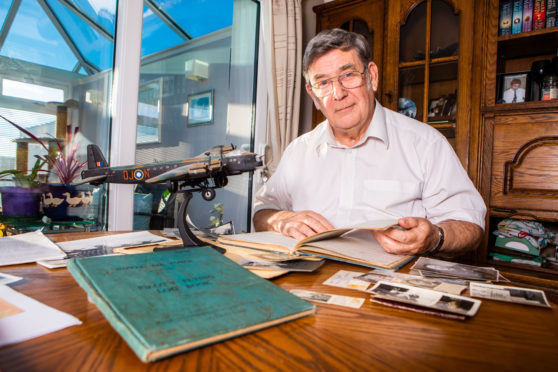 A Courier appeal to trace relatives of a Royal Air Force World War Two bomber pilot shot down over Germany has been successful.
German researchers were desperately trying to find the descendants of Flight Sergeant Andrew Angus Brown, believing he hailed from Kirriemuir.
Following our article it emerged the pilot was raised at Peterculter, Aberdeen, but his nephew and name sake, Andrew Brown, has lived in the Angus town since 1976.
Andrew, 72, who served in the Merchant Navy and latterly worked offshore, was surprised to see his uncle's photograph in the paper.
He was delighted a memorial service is now planned to give the victims the recognition they deserve after the crash site was traced.
As the eldest son, Andrew inherited his uncle's attache case which housed a number of personal documents.
He said: "When my uncle was killed the RAF sent his brief case with all his possessions to his next of kin, who was my grand-father.
"He then gave it to my father who passed it on to me."
Andrew then handed the contents to his cousin Alan Fraser, from Perth, another nephew of Flight Sergeant Brown, who also saw the appeal in The Courier.
Hunt for Angus family as German researchers uncover crash site of RAF wartime bomber – 75 years after it vanished
Alan, 69, served in the RAF for 23 years and is the historian and archivist for 149 (East India) squadron RAF.
He explained his uncle was born and brought up in Culter leaving only to join the RAF in December 1941.
"Following his basic flying training, Andrew was selected for the Arnold Scheme training programme in the USA.
"After passing his training he progressed through yet more training in the UK to emerge as a Sergeant Pilot flying a Short Stirling bomber.
"Andrew and his crew were posted to 149 (East India) Squadron RAF, based at RAF Lakenheath.
"The crew had completed 19 operations together, which was more than half way towards their full 'Tour' and a well-earned rest from Operations, when they were shot down over Mannheim/Ludwigshafen."
Although Andrew junior is physically unable to travel to Germany to attend any memorial service being organised by crash site researcher Erik Wieman, Alan said he would move "heaven and earth" to be there.
He continued: "I am aware of Erik Wieman and his work, having helped him with information on other memorial work he and his team have done.
"I have the highest regard for him and the team, and I am in close contact with him on this particular project."
The Scottish pilot was among the seven mixed-Commonwealth crew who died when their Stirling bomber was shot down in the early hours of September 6 1943 near the industrial city Ludwigshafen.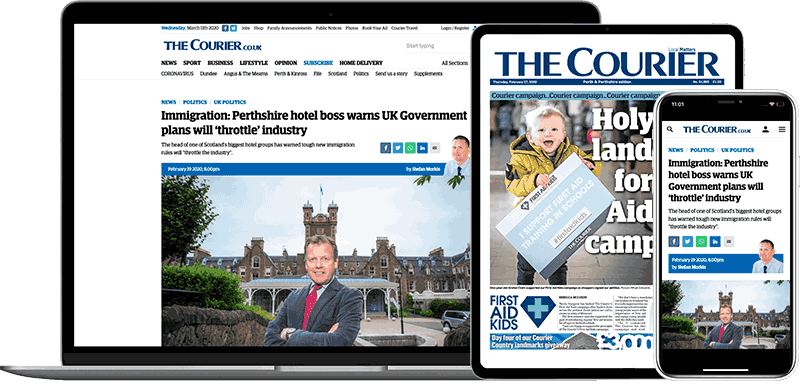 Help support quality local journalism … become a digital subscriber to The Courier
For as little as £5.99 a month you can access all of our content, including Premium articles.
Subscribe