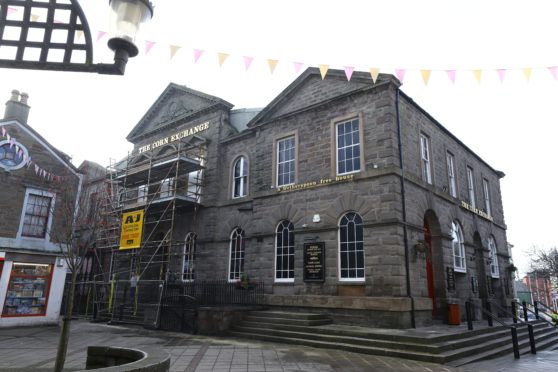 Pub chain J D Wetherspoon has been warned it is in the last chance saloon over expanding its alfresco drinking offering to Angus punters.
The hostelry giant has won an expansion of the outdoor seating area in front of its Arbroath Corn Exchange outlet in the face of opposition from nearby businesses who complained about rowdy patrons and scavenging seagulls.
A leading Arbroath councillor said that whilst he wasn't happy with the expansion there was no good reason for development standards committee members to refuse the bid, and he also fired a warning at businesses who allow vehicles onto the pedestrian zone outside the pub a stone's throw from the town high street.
In 2014, Wetherspoons successfully applied for an outdoor seating area beside the Market Place premises and the latest 10 square metre expansion which will accommodate four extra tables was recommended for approval by planning officials.
Objector Lesley Firth said: "As a tenant of this beautiful and self-managed conservation area I feel that it is a detrimental move that will cause a negative impact for the rest of us independent traders.
"We take deliveries daily and this will be affected by the limited access. There are also mail vans delivering/collecting from the post office which will cause a bottle neck in this small pedestrian precinct.
"We don't have the best weather so ultimately this outdoor eating/drinking areas can be an excuse to get drunk, smoke and let the children run amok on the staircases.
"We already have to put up with loud, inebriated Wetherspoons clients yelling and swearing after a few drinks out for a smoke," added her objection.
Arbroath SNP councillor Alex King said he was concerned about the narrowing of the pedestrian area and the impact on motorised wheelchair users and parents with prams and buggies.
"I'm not over happy with the idea of extending external drinking in this area but reluctantly I must go with it because there is no good reason not to approve this.
"But I think we should be sending a very clear message that this is as far as they will be allowed to go.
"This is a national chain looking at national solutions to national problems, but we must remind them that we need to find local solutions."
Mr King added: "Vehicles are also prohibited in this area and I think the shops which are allowing vans in for deliveries should be reminded of that, and perhaps the enforcement officers tipped off to keep an eye on that."
Conditions attached by the committee mean the outdoor area will only operate until 8pm and no open air music will be allowed.