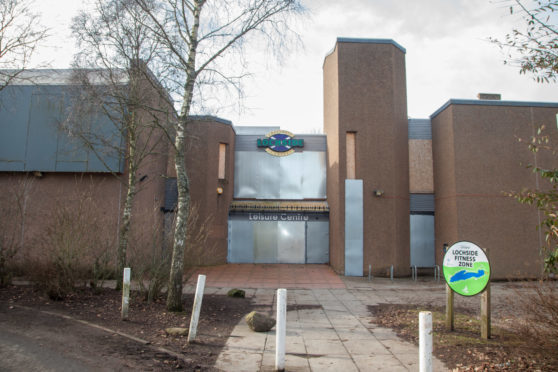 An 11th hour bid to save the Lochside Leisure Centre in Forfar from a £455,000 wrecking ball has been thrown out by Angus councillors.
An emergency item was added to the agenda of Thursday's full council meeting which recommended demolition of the building, which currently costs £4,000 per month to maintain, arguing selling it would see the loss of an area of country park and access to common good land by the community.
Officers stated there was a risk no offers would be received or a sale might not go through.
Local property developer Mark Guild gave an impassioned presentation to elected members as he sought to stave off demolition.
He said: "Lochside Leisure Centre is not structurally unstable and is not sinking into Forfar Loch.
"Angus Council do appear, for unknown reasons, to have a blind commitment to demolition.
"I appeal to you to work with me, to work with the community, to work for the community and to together save Lochside Leisure Centre, save £500,000 of public money and to ensure a viable future for this significant community asset."
Forfar and District Conservative councillor Braden Davy led the opposition to demolition and proposed putting it on the open market.
He warned: "The people of Forfar and Angus won't take kindly to throwing away the chance of a cinema, trampoline park or community asset."
He was backed by Carnoustie and District Independent councillor David Cheape.
He said: "I am going to oppose any recommendation from council officials to demolish the centre, and support its sale to either the party who has submitted a clean unconditional offer or, as I would prefer, a proper marketing of the subjects to provide prospective purchasers proper time and opportunity to view, take professional advice and generate competitive offers."
Council leader David Fairweather argued for demolition, stating: "Demolition will ensure land which belongs to the common good fund stays in the common good.
"This building is actually costing us £1,000 per week to maintain and, because of the complex legislation, it could take a year or two years or how long is a bit of string.
"Hard decisions have to be made, and this shouldn't be a hard decision to make."
Members voted 13 to eight in favour of demolition.
Speaking after the meeting, Mr Guild said: "I'm speechless at this decision but this is far from over."
Forfar businessman Donald Stewart, who lodged an unconditional offer for the centre and who had ambitious plans to transform it into a cinema, indoor trampoline park and restaurant area, declined to comment on the council's decision until he received an official response from his solicitor.
He also refused to reveal how much he was willing to pay for the centre, which closed in 2017.