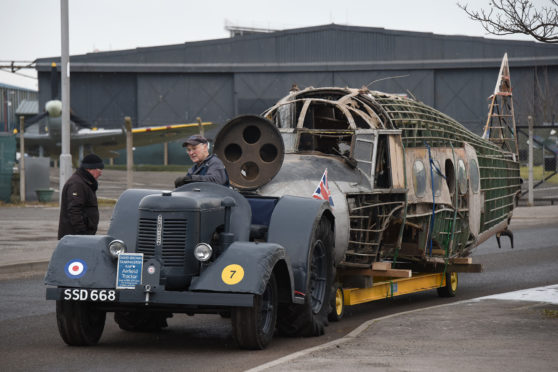 Appropriate transport has been pressed into service for Montrose air station heritage centre's first flit of an aircraft into a historic hangar on the site of the important Angus base.
The volunteer-run attraction recently marked another milestone in its successful history with the acquisition from Angus Council of the hangar which was part of 'Major Burke's Sheds' at Britain's first operational military airfield.
A trio of A-listed hangars remain adjacent to the heritage centre and the largely unaltered 1b unit will now become part of the museum after a long-term agreement was struck with Angus Council.
Enthusiasts have lost no time in moving the first aircraft in over 70 years into the building.
The centre's Avro Anson TX226, a Mk C19 will undergo a rebuild to exhibition standard by a team of volunteer engineers.
One of the most successful aircraft built by Avro, the model first flew in 1935 and 11,020 were manufactured.
Ansons first made an appearance at Montrose as a warplane and equipped No 269 Squadron Coastal Command, which was based at the Angus airfield at the outbreak of war in September 1939.
The Angus Anson was acquired a couple of years ago having originally been constructed in 1946 at the company's Yeadon factory, close to what is now Leeds Bradford airport.
Among its roles, the Anson was used as a submarine hunter and in February 1940 a 269 Sqn aircraft flown by Flight Sergeant Tony Reen tracked and sunk an enemy sub off Cape Wrath.
The aircraft was towed to its new home in the historic hangar by another vintage vehicle, the 1941 David Brown Taskmaster airfield tractor which has also been restored by the centre.